Architect
Victor Gruen Associates
Austrian-born architect Victor Gruen burst onto the Los Angeles scene in 1949 with the design of Milliron's Department Store in Westchester. Its grand opening was a huge event that showcased the elegance and efficiency of postwar Modernism.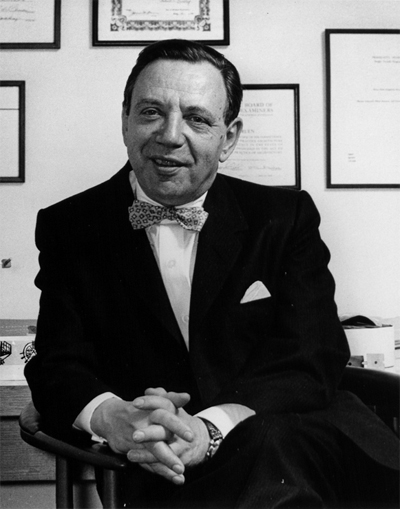 Victor Gruen Associates
Gruen designed Milliron's under the partnership of Gruen and Krummeck with his wife, Elsie Krummeck. After they divorced in 1951, he formed Victor Gruen Associates. The firm revolutionized suburban shopping in the 1950s and essentially invented the American shopping mall. 
In Los Angeles, Victor Gruen Associates' architectural impact spans well beyond retail spaces. The firm's Modern designs include innovative residential and commercial projects such as the award-winning Wilshire Terrace Co-Op (1958), the first residential tower on the Wilshire corridor in Westwood; and the Wilshire Beverly Center office building in Beverly Hills (1962), a notable high-rise on a challenging, triangular lot. 
The firm created the master plan for the seaside community of Marina del Rey in 1965. One of their most provocative late Modern projects is the Pacific Design Center, a massive, bright-blue glass building designed by renowned architect Cesar Pelli in 1975. The PDC would have two subsequent glass additions: the green building in 1988 and the red building in 2011.
Born Victor David Grunbaum in Vienna, Austria in 1903, he studied architecture at the Academy of Fine Arts in Vienna and opened his first practice there in 1933. He fled Nazi-occupied Austria in 1938, emigrating to New York and changing his name to Gruen. 
After achieving great success designing upscale retail shops in New York City with his wife, the couple relocated to Los Angeles in 1941. Gruen became a U.S. citizen in 1943.
By the 1960s, Victor Gruen Associates was an internationally recognized firm, conceiving Modern master plans for cities around the world. By the 1970s, the firm had designed over fifty shopping malls throughout the country. 
By 1978, Gruen, a socialist, renounced the American retail mall as a debasement of his original urban planning ideas. He spent the latter part of his life in his native Austria and died in Vienna in 1980.
Known today as Gruen Associates, the celebrated Los Angeles firm is on its fourth generation of partners and continues to be an international leader in planning and urban design.
Hear Victor Gruen's remarks at an AIA event in the 1960s: https://www.youtube.com/watch?v=sZOZOH2RU1w 
Related Places
Place

Wilshire Terrace Co-Op

Place

Wilshire Beverly Center

Place

Pacific Design Center