Architect
William Pereira
The handsome, charismatic William Pereira was one of the few architects to appear on the cover of Time magazine.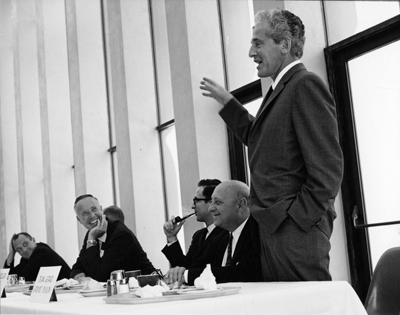 William Pereira (1909-1985)
The Chicago native was born in 1909. As a young man he worked as draftsman and architect's assistant, and supported himself as a painter and illustrator. He graduated from the University of Illinois School of Architecture in 1931. After graduation, Pereira worked for the firm of Holabird and Root, where he contributed to the master plan of the 1933 World's Fair.
He opened the firm of Pereira and Pereira with his brother Hal; together, they designed dozens of movie theatres across the U.S. William moved to Los Angeles in 1938, working as both an architect and a production designer for Paramount and RKO. In 1943, he shared an Academy Award for Special Effects for Reap the Wild Wind. In the same period, he designed the Lake County Tuberculosis Sanatorm (1938) in Waujegan, Illinois, and L.A.'s Pan Pacific Theatre, next to the Pan Pacific Auditorium designed by Welton Becket and Associates (both now demolished). 
After World War II, Pereira taught at the USC School of Architecture. In 1950, he formed a partnership with Charles Luckman, the former president of Lever Brothers and fellow Illinois native. The firm created some of Los Angeles' great landmarks, including the master plan and iconic Theme Building for LAX. At one time, the firm had 400 employees.
The partnership with Luckman lasted until 1958, when Pereira formed Pereira and Associates. The firm had its hand in designing everything from amusement parks to research facilities. Pereira and Associates not only gained national recognition for its buildings, but also for the many master plans produced by the firm, making Pereira a leading figure of master planning, so much so that it landed him on the cover of Time magazine in 1963.
In 1985 William Pereira died at age 76. Among his most recognized buildings are San Francisco's Transamerica Pyramid (1972), Los Angeles County Museum of Art (Mid-Wilshire, 1965), and the Geisel Library at UCSD (1970). Pereira maintained active involvement in arts and sciences community throughout his life. He held various positions in many organizations, including the American Institute of Architects, Academy of Motion Picture Arts and Sciences, National Council of the Arts, and the National Academy of Engineering.
Related Places
Place

Times Mirror Square