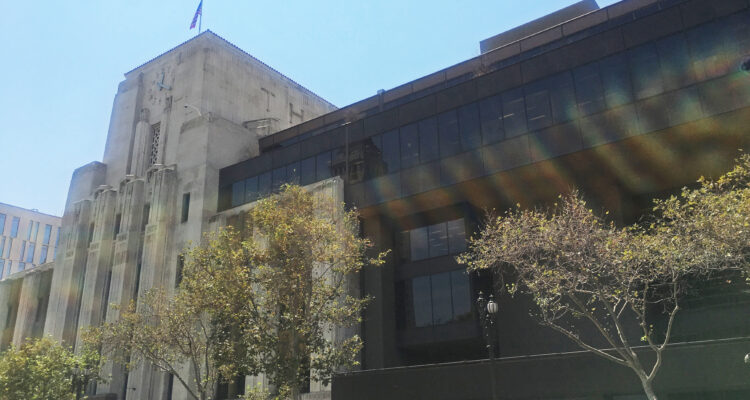 Place
Times Mirror Square
Developed between the 1930s and 1970s, Times Mirror Square reflects the twentieth century growth of Los Angeles' Civic Center.
Located at the intersection of First and Spring Streets, the Times Mirror Square complex consists of several structures built between 1935 and 1973. It contains more than 700,000 square feet of office space and includes the Los Angeles Times Building, a grand example of Art Deco and Moderne architecture, and a 1970s addition by modernist William L. Pereira. 
Local master architect Gordon B. Kaufmann designed the Los Angeles Times Building, which opened in 1935. The building features powerful vertical ribs, which impart a sense of monumentality as they lead the viewer's eye up to the iconic letters etched onto the side of the building: "The Times." 
Kaufmann's design for the building won a gold medal at the 1937 Paris Exposition.
Robert Merrell Gage designed limestone sculptures for the First Street elevation, which represent stylized newspaper motifs.
The highlight of the interior of the 1935 building is the glittering Globe Lobby, famous for its aluminum globe, 5 ½ feet in diameter, set atop a bronze pedestal. Ten-foot high murals by artist Hugo Ballin adorn the walls of the lobby, depicting scenes from L.A. history and the newspaper industry. Ballin is also known for painting the rotunda at the Griffith Observatory.
The Times Building's monumentality, as well as its proximity to City Hall, demonstrated the newspaper's relationship to politics and civic power during the 1930s.
In 1948, Rowland H. Crawford designed a ten-story auxiliary structure, also in the Moderne style to complement Kaufmann's building.
In 1973, William L. Pereira designed an immense six-story glass and steel structure on the northwest corner of the complex, which would become the new corporate headquarters of the Times Mirror Company. Though distinct from the earlier Art Deco buildings, Pereira's International-Style wing recapitulates the geometric order and monumentality of the Kaufmann structure.