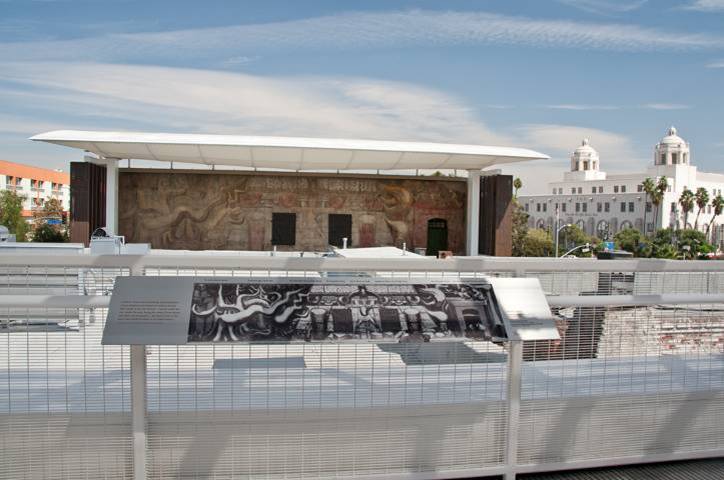 Place
América Tropical
This monumental mural by acclaimed artist and muralist David Alfaro Siqueiros was deemed too controversial and was whitewashed within a few short years of its unveiling.
In October 1932, revolutionary artist and political activist David Alfaro Siqueiros completed América Tropical on the Italian Hall on downtown's Olvera Street. Commissioned by La Plaza Art Center, the eighty-foot long mural was intended to depict a romanticized view of tropical America, a land of plenty.
What was unveiled, however, was a scene of Maya ruins, sharpshooters, a crucified Indian figure, and an American eagle looming overhead. 
The controversial mural was whitewashed and largely forgotten until the 1960s. In the late 1980s, the Getty Conservation Institute (GCI) and the City of Los Angeles began work to conserve and protect the mural while making it publicly accessible.
Conservators generally agreed that because of the mural's severe deterioration and the lack of color photographs for reference, it should be stabilized and conserved in its current state instead of trying to restore its color. 
After over twenty years of work, the GCI and the City reopened the mural to the public on the eightieth anniversary of the mural's original unveiling.
In addition to the conservation of the mural, a shelter and viewing platform were carefully conceived and constructed to not compromise the existing historic structure, and an interpretive center with interactive exhibit provides visitors with greater context for the mural and Siqueiros' life. This Herculean project earned a Conservancy Preservation Award in 2013.