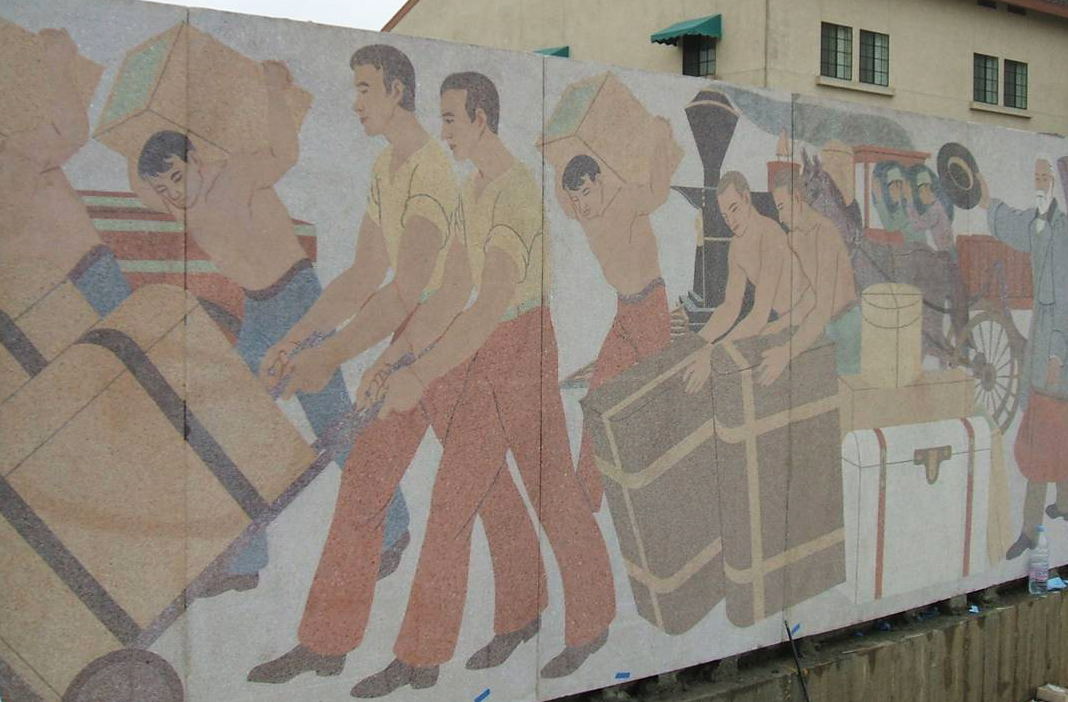 Place
History of Transportation
This WPA mural, once covered in cracks and graffiti, was painstakingly restored, earning a Conservancy Preservation Award in 2008.
History of Transportation is a petrachrome wall mural created by California artist Helen Lundeberg as part of the Works Progress Administration (WPA). Lundeberg was one of only three female artists chosen in California to create public artwork for the WPA. 
The mural is a pictoral history of the Centinela Valley, beginning with the Gabrielino Indians. It continues through the valley's history, depicting different forms of transportation, up until 1940 with the advent of the airplane and aerospace industry.
Lundeberg's 240 foot mural consists of sixty individual panels. 
Originally the mural was installed at the southern border of Edward Vincent, Jr. Park near Florence Avenue and Redondo Beach Avenue. At the time this was a popular thoroughfare, connecting Inglewood with downtown Los Angeles. The Pacific Electric Red Car streetcars ran down this street, allowing many people to regularly view the mural. However, with the removal of the Red Cars and the construction of the 405 freeway, the street saw less use and the mural was neglected.
Over the years the mural suffered extensive damage. Roots from trees planted near the mural grew under the wall, moving the wall and causing cracks to appear in the panels. Cars had crashed into the wall and damaged it further, and nearby gangs had covered the mural in graffiti.
Each panel was painstakingly restored (two panels had been completely destroyed and were recreated) and the mural was installed across from Inglewood High School, where it is once again highly visible to the community. The work to restore History of Transportation earned a Conservancy Preservation Award in 2008.