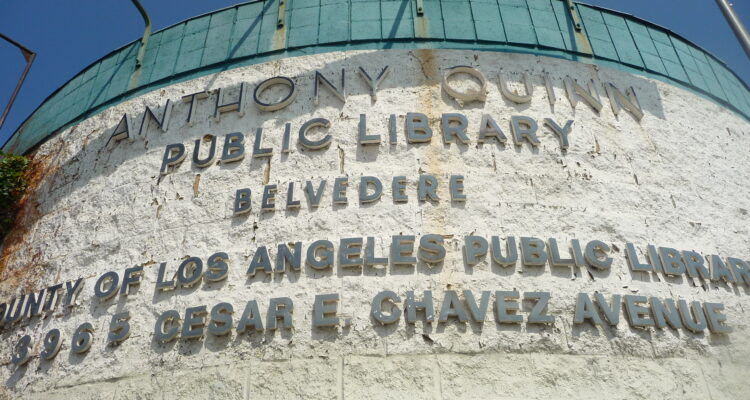 Place
Anthony Quinn Library
Actor and East L.A. native Anthony Quinn is memorialized at the library that is now located on the site of his childhood home.
Belvedere Library, as it was originally known, was one of the first branches of the Los Angeles County Public Library. Since its establishment in 1914, the library has relocated several times, finally settling at the corner of East Cesar E. Chavez and Hazard avenues in 1972. 
In 1982, Belvedere Library was renamed the Anthony Quinn Library because of its location on the site of actor Anthony Quinn's childhood home. Anthony Quinn was born on April 21, 1915 to an Irish Mexican father and a Mexican Indian mother in Chihuahua, Mexico. His family moved to East Los Angeles when he was a young boy. As a teenager, Quinn boxed professionally before pursing an interest in art and design. Incidentally, Quinn trained for some time as an architect at Taliesin under Frank Lloyd Wright, who first encouraged the young man to pursue acting. 
The first Mexican American to win an Academy Award, Quinn was known for his roles in dozens of acclaimed films, including Viva Zapata!, Zorba the Greek, and Lawrence of Arabia. 
The stucco library building features an exterior mural known as Tree of Knowledge or the "Read" mural. The Chicana Action Service Center commissioned the mural in 1978, which was created under the guidance of noted Mexican muralist Josefina Quezada. 
The Anthony Quinn Library underwent renovations in 2000 and re-opened in 2001. Following the renovation, a mural conservation effort was initiated, with Quezada supervising the project. In 2012, the mural was completely restored by the Social and Public Art Resource Center.
In 1987, Quinn donated his collection of movie scripts, scrapbooks, and personal papers to his namesake library. The memorabilia is currently being archived. Today,  the Anthony Quinn Library remains an important community center and an unofficial memorial to the trailblazing actor.