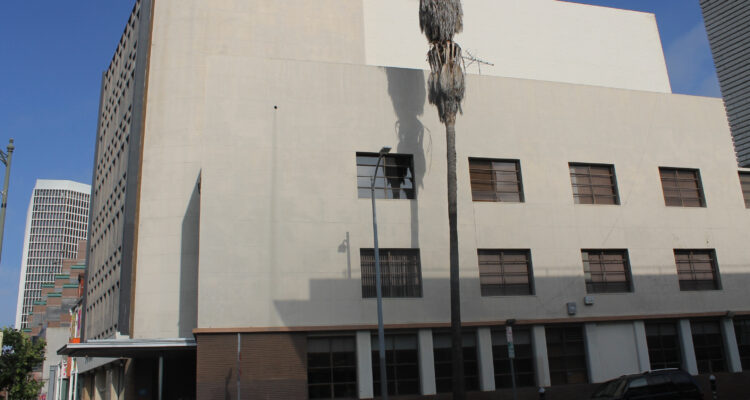 Place
Arthur Murray Office and Studio
Featuring front studios with floor-to-ceiling glass curtain walls, Arthur Murray's ultramodern Los Angeles office and studio was a precursor to the mid- and high-rise office buildings that would dominate Wilshire Boulevard in the coming decades.
Arthur Murray himself appeared at the 1941 opening of his "ultramodern" Los Angeles office and studio. The Late Moderne-style building by Stiles O. Clements prominently advertised the Murray studio with simple lettering on a freestanding wall that soared several stories above Wilshire Boulevard.
The front façade is nearly transparent above the ground story, a precursor to the floor-to-ceiling glass curtain walls that would dominate the mid- and high-rise office buildings that would pop up along Wilshire in the following decades.
Front studios with floor-to-ceiling windows faced the street, displaying living advertisements for the dance classes taking place within the building to the passersby below.
The studio featured sixty air-conditioned dance studios, with smaller spaces for private lessons where the more timid could learn to dance away from judgmental eyes.
Dance maestro Arthur Murray grew up on New York's Lower East Side. He could not afford admission at the city's dance halls and instead learned popular dances by crashing weddings at hotels on the Upper East Side. He taught dance classes to pay for business classes at Georgia Tech and was so successful that he returned to New York and opened his own studio. Murray's business expanded across the country, first through mail order dance instructions and then through classes at the Statler Hotel chain. Business boomed in the 1940s when returning GIs (with the help of Murray's lawyer) realized they could use GI Bill funds to pay for lessons. By 1946, Murray operated seventy-two dance studios across the United States and generated $20 million per year in revenue.