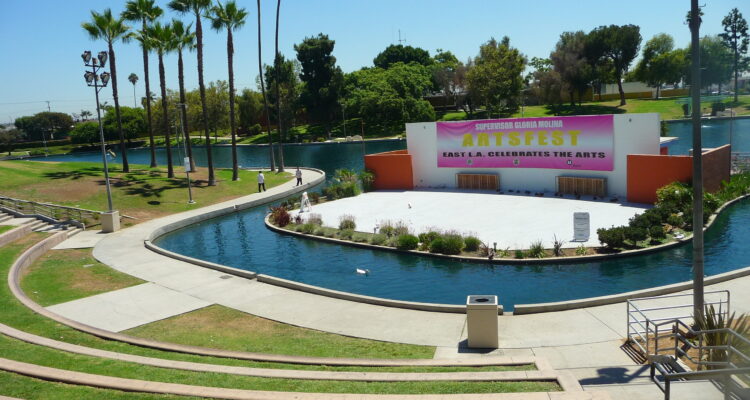 Place
Belvedere Park
Belvedere Park has been the recreational heart of East Los Angeles for over seventy years.
Built in 1942 for the nearby Maravilla community, what was originally known as Soledad Park has been characterized by vast open space for most of its history. Although it has been largely associated with the Chicanx community, it also served Eastern European immigrants during its early days. 
From the 1940s to the 1960s, Belvedere Park (renamed in 1949) was known for hosting the games of the local Mexican American baseball leagues in the northern field, "El Porvenir." 
The park helped to foster a sense of community that led to the baseball players' involvement in local political and labor organizations, and the teams helped sustain the players' traditional language and culture. The park was also the site of numerous motorcycle races during this period. 
In the mid-1950s, the County constructed a courthouse and sheriff's station on the south end of Belvedere Park, increasing tensions between law enforcement and the local community, as well as reducing the amount of open space in the park. Additional County buildings were added over time, including a library, turning the southern end of the park into a de facto civic center. 
The construction of the Pomona Freeway (I-60) in the 1960s, one of several new freeways that divided the Eastside, similarly had a dramatic impact on Belvedere Park. The project cut directly through the park, dividing it into two segments and further reducing open space.
The decision to construct the freeway in this location reflects the absence of environmental protections during this era, as well as the restricted rights of the local community in shaping land use policies. 
As a freeway mitigation measure, the County constructed a pond in the southern area of the park in the late '60s. Known to locals as "El Parque de los Patitos" in reference to the numerous local bird species that are attracted to the pond, the park has hosted countless local and international musicians in its lakeside amphitheater, making it a popular place for festivals and gatherings.
The northern part of the park slowly deteriorated over time, although a new baseball diamond and picnic area were added in the 1980s. The election of Gloria Molina to the County Board of Supervisors in the 1990s coincided with the revitalization of Belvedere Park, particularly the resources in the northern region.