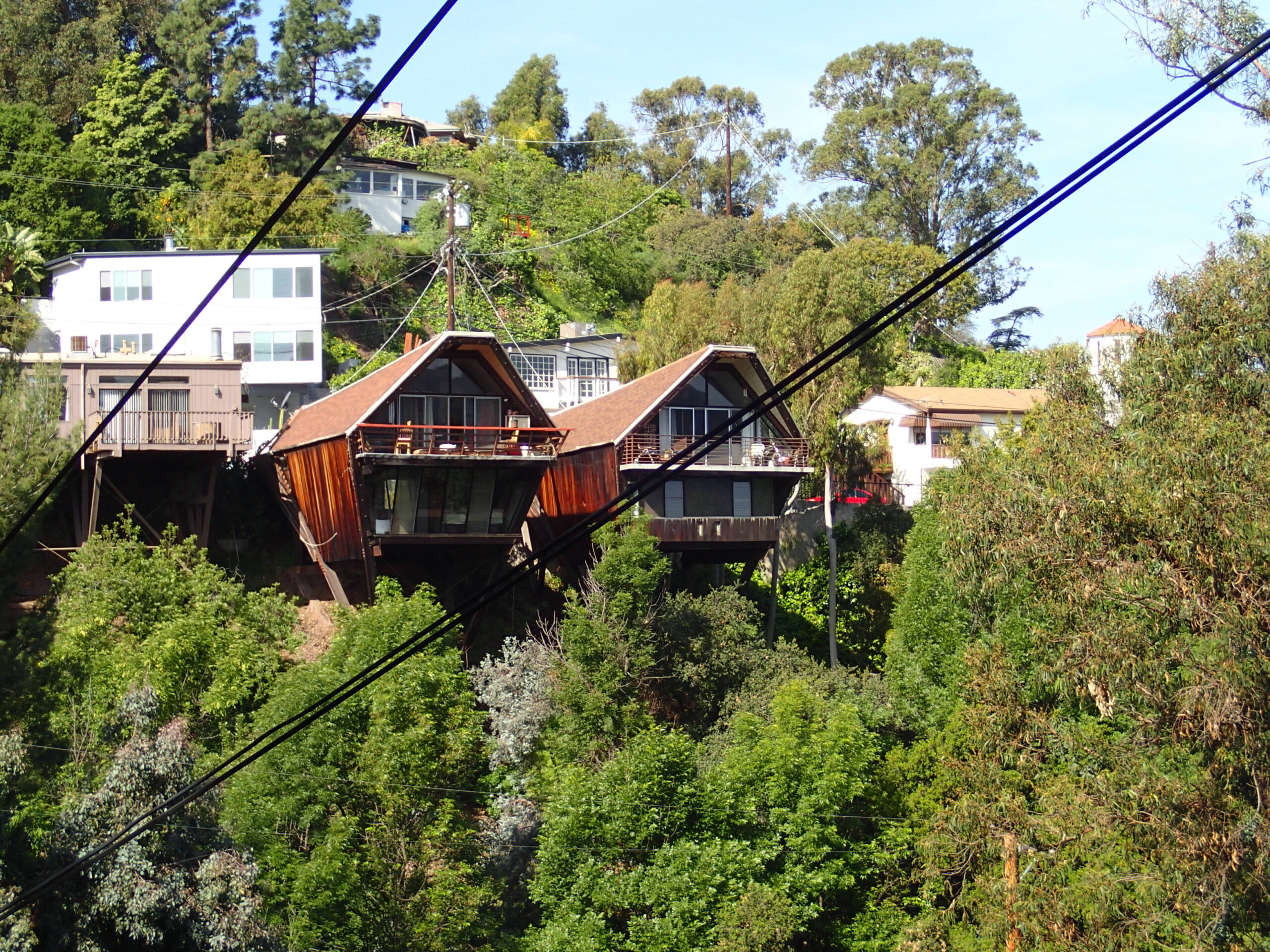 Place
Boat Houses
These miniscule (by today's standards) homes are clad in warm wood with angled ceilings, built-in furniture and glass facades giving Harry Gesner's "boat houses" their name.
Some of the most interesting homes in the Valley are neither large nor opulent, but are fascinating for their siting and outside-the-box designs.
These are the "boat houses" of architect Harry Gesner, perched on the hillsides above Cahuenga Pass along Pacific View Drive and Woodrow Wilson Drive. Constructed in the late 1950s,
these small, wood houses cling to lots only 25 to 30 feet wide, cantilevered out beyond the edges of steep slopes with the reward of amazing views and a treehouse-like feel.
Gesner welcomed the challenge of building on these lots, seeing each design as an opportunity to create a site-specific sculpture. The houses have dramatic clipped gable rooflines best viewed from afar, where you can also see the glass walls that comprise their rear façades.
Gesner hired Norwegian shipbuilders to help construct the small houses (each less than 1,200 square feet in size), and they reportedly shaped the wood structural members and finishes with handaxes rather than saws. The homes' interiors are clad in warm wood and, with their angled ceilings and built-in furniture, do feel a bit like boats. Covered decks, expanses of glass, and open floor plans help them feel larger and more integrated with the outdoors.
According to a 1959 Los Angeles Times article on the boat house Gesner designed for bathing suit designer Fred Cole, the architect's design aimed to combine the relaxed feeling of a Tahitian hut with the strength and friendly warmth of a mountain cabin. These exciting, inviting houses are wonderful examples of atypical Mid-Century Modern design in the Valley.