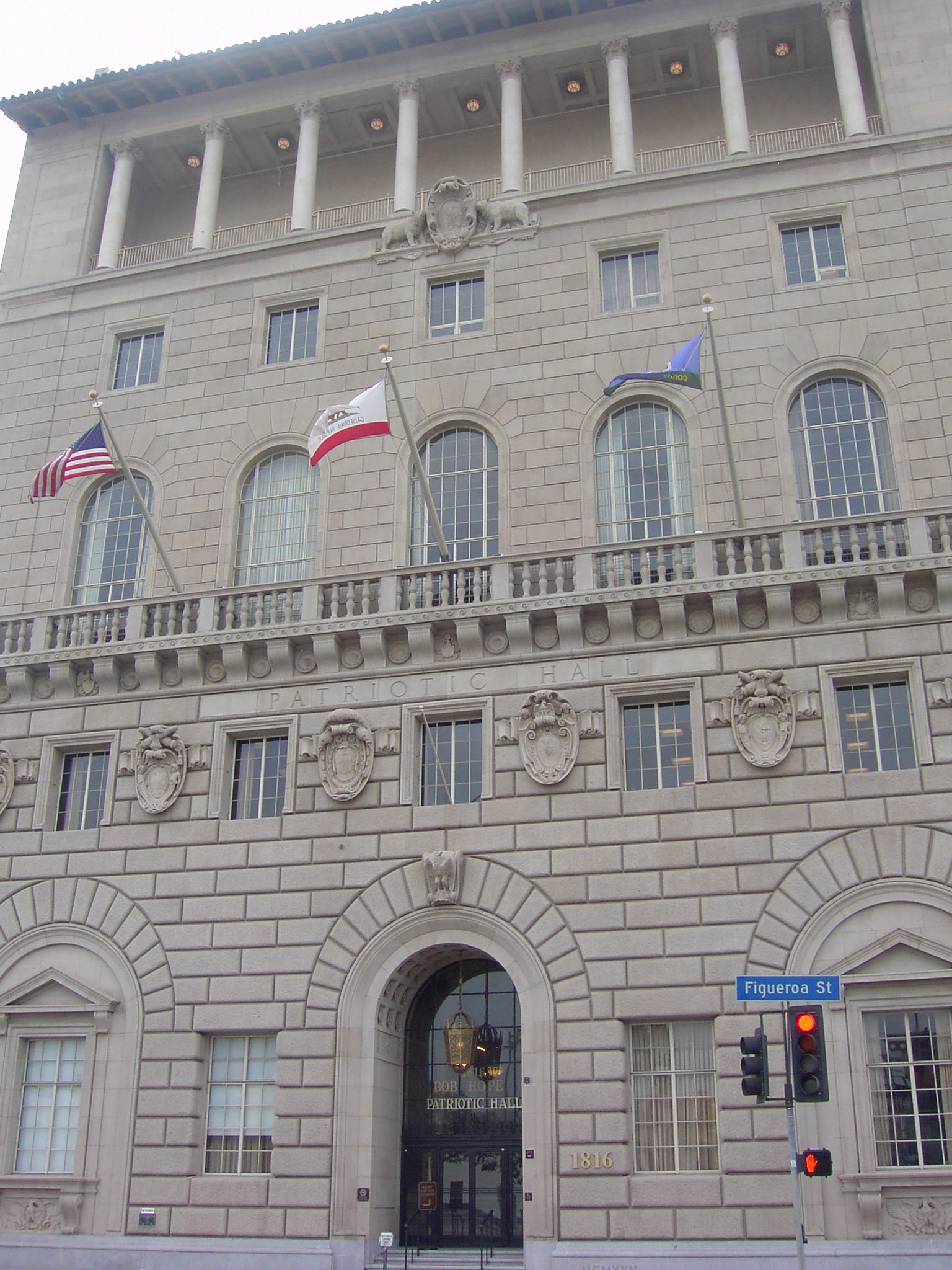 Place
Bob Hope Patriotic Hall
This highly visible monument to U.S. military veterans enjoys new life serving those who have served our country.
Patriotic Hall was built in 1926 as a monument to—and resource for—veterans of the Civil War, Spanish-American War, and World War I.
The facility has been a valuable resource for veterans and the nearby community, often used for veteran services, wedding parties, and film or television production.
The Allied Architects Association of Los Angeles designed Patriotic Hall in the Italian Renaissance Revival style. When completed, the building was the tallest in all of Los Angeles, at the equivalent of twelve stories.
The building housed servicemembers on leave during World War II. It also hosted top performers who entertained the troops, including Bob Hope, Bing Crosby, and Dorothy Lamour.
The building housed the City's municipal courts in the 1940s, as new ones were being constructed. During the Korean War, it served as a processing center for the Army and Air Force.
Over the years, Bob Hope Patriotic Hall fell into disrepair. Its infrastructure and systems were sorely out of date, and it suffered from deferred maintenance. In 2006, the County of Los Angeles fundraised for the rehabilitation of the facility, a project with a budget of over $75 million.
The project entailed a large-scale, comprehensive interior and exterior rehabilitation. Internally, the project team restored wood doors and hardware, marble finishes, ceramic tile, decorative plaster and painting, murals, and auditorium and gymnasium seats.
Externally, the team restored and repaired all historic features, including cast stone, granite, brick masonry, terrazzo, steel windows and hardware, metal skylights, wrought iron doors, metal fire escapes and railings, decorative metal louvers and grilles, copper cornice and gutters, clay tile roof, plaster, decorative painting and stenciling, stained glass, and light fixtures.
The project preserved one of Los Angeles' most prominent, highly visible historical facilities, earning a Conservancy Preservation Award in 2014. Bob Hope patriotic Hall now enjoys new life as a multipurpose facility, with ample meeting and conference space for veterans and others in the community to meet and recreate.
Content adapted from Preservation Awards application.
Looking to contact the Bob Hope Patriotic Hall?
The Conservancy does not own or operate the Bob Hope Patriotic Hall. For any requests, please contact the Bob Hope Patriotic Hall directly at (213) 765-9680.