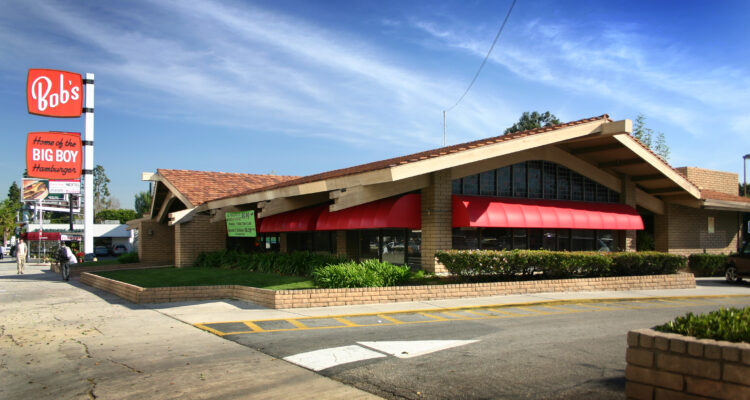 Place
Bob's Big Boy (Demolished)
Armet and Davis' "Chula Vista" design: coffee shop meets ranch house.
This 1972 Bob's Big Boy restaurant illustrated the evolution of coffee shop architecture in response to changing tastes in design and advertising.
Armet + Davis, the architecture firm celebrated for its dynamic coffee shop designs in the Googie style during the 1950s and '60s, developed this "Chula Vista" design for Bob's during the 1970s, when the restaurant trade embraced a conservative image.
Consisting of three prototype models suited to different locations, the Chula Vista design evoked a suburban ranch-style home of traditional building materials and warm, muted colors.
Set back from the sidewalk on a lush lawn, this Bob's featured a low-pitched roof supported by large wood beams. Casting a warm glow on the interior are leaded windows at the building's east and west elevations, composed of colored squares of glass in shades of brown, green, and orange.
The large pole sign on the front lawn, of backlit plastic, exemplified the shift away from neon for advertising.
The property was demolished in 2008, along with its neighbor Lou Ehlers Cadillac, and replaced with new facilities for Beverly Hills BMW.