Architect
Armet & Davis
One of the most prominent practitioners of Googie architecture, the firm of Armet and Davis created many of Los Angeles' most innovative postwar commercial structures, gaining international acclaim for their restaurants and coffee shops.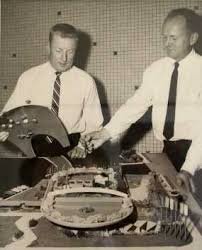 Established by Louis Armet and Eldon Davis in 1947, the prolific firm "established Coffee Shop Modern as a major popular modern style,'' wrote Alan Hess in the seminal book, Googie: Fifties Coffee Shop Architecture. 
Armet was born in St. Louis, Missouri in 1914 and moved to Los Angeles as a teenager. He graduated from the USC School of Architecture in 1929 and designed for the U.S. Navy early in his career. Born in Anacortes, Washington in 1917, Davis was a 1942 graduate of the USC School of Architecture. 
Both men originally intended to practice industrial architecture together, but building opportunities in postwar Los Angeles were too fruitful to ignore.
While the term Googie was originally coined after the John Lautner-designed coffee shop, Googie's (now demolished), on the Sunset Strip, it is the mid-twentieth century designs of Armet and Davis that have become synonymous with the term.  
Credited with the construction of over 4,000 Googie restaurants, Armet and Davis designed prototypes for large restaurant chains such as Denny's and Bob's Big Boy that were used to develop the restaurants throughout the U.S. and abroad. Their designs embraced postwar enthusiasm and created eye-catching structures to lure in the average American diner. 
In Los Angeles, Armet and Davis combined elements of futurism with the city's car culture to produce eating establishments with undulating forms, dramatically angled roofs, dazzling signage, and glass expanses. 
Yet function was at the core of Armet and Davis' designs. Whether for individual locations, small chains, or national franchises, they created practical solutions for their clients—from time-saving open kitchens to economical uses of materials in new ways.
Although Armet and Davis' Los Angeles coffee shops such as Norms La Cienega, Pann's, and Mel's are iconic today, they were widely criticized by contemporaries. Decades later, Eldon Davis himself was surprised to hear about the preservation efforts surrounding them. Despite their innovative motifs and lasting appeal, for the pragmatic Davis, the design objective was to simply sell food to the general public.
Victor Newlove joined Armet and Davis in 1963 and became a partner in 1972, when the firm was renamed Armet Davis Newlove. It continues today as a renowned Los Angeles practice, with Newlove still at the helm.
In 1981, Louis Armet died in Los Angeles at the age of 67. Eldon Davis continued to practice architecture into his early 80s before retiring; he ran marathons into his 90s. Davis died in West Hills, California in 2011 at the age of 94.
Related Places
Place

Bob's Big Boy (Demolished)

Place

Johnie's Coffee Shop

This Googie gem became a City of Los Angeles Historic-Cultural Monument in 2013.

Place

Norms La Cienega Coffee Shop
Place

Bob's Big Boy (Demolished)

Place

Johnie's Coffee Shop

This Googie gem became a City of Los Angeles Historic-Cultural Monument in 2013.

Place

Norms La Cienega Coffee Shop