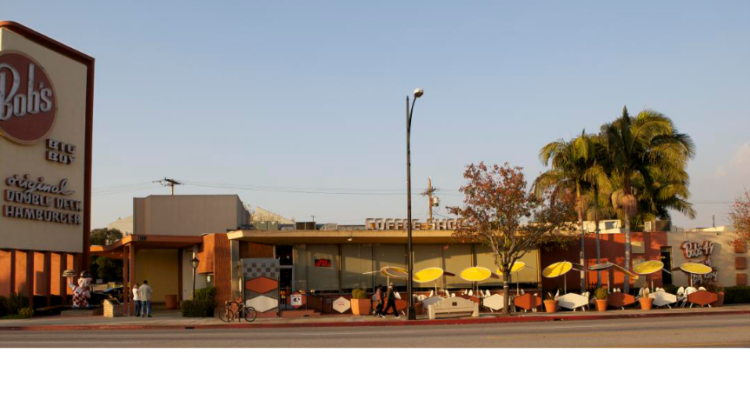 Place
Bob's Big Boy
This Toluca Lake landmark escaped the wrecking ball, thanks to the Conservancy's Modern Committee.
The postwar coffee shop and Los Angeles go together like a hamburger and French fries. Bob's Big Boy in Burbank is one of the most iconic postwar coffee shops in Los Angeles.
Bob Wian built his first restaurant, Bob's Pantry, in Glendale in 1936. Bob's Big Boy on Riverside Drive is one of the earliest surviving of Wian's restaurants and part of a larger expansion of his chain in the late 1940s. The 1949 restaurant is a transitional design incorporating 1940s Streamline Moderne styles (broad, curving window walls and canopies) while anticipating the exuberance of freeform '50s coffee shop architecture (cantilevers, striking signage, use of glass).
Coffee shops of this era raised billboards to an art form, and the thirty-five-foot neon Bob's sign is an integral part of the building. The larger sign made the coffee shop visible to passing automobiles and helped establish Bob's as a brand.
The building was designed by Wayne McAllister, an architectural designer whose range of work included the Agua Caliente Casino and Hotel in Tijuana, early Las Vegas hotels such as El Rancho Vegas and the Sands Hotel, as well as many of Los Angeles' iconic mid-century restaurants and coffee shops.
Now the oldest operating Bob's Big Boy in the nation, this location was threatened with demolition in the 1990s, long before the renaissance of Mid-Century Modernism. The Conservancy's Modern Committee lobbied for its preservation and led a successful effort in 1992 to have Bob's declared a California Point of Historical Interest.
The owner has since reinvested in the building's Modern splendor and successfully uses its historic designation as a marketing tool.