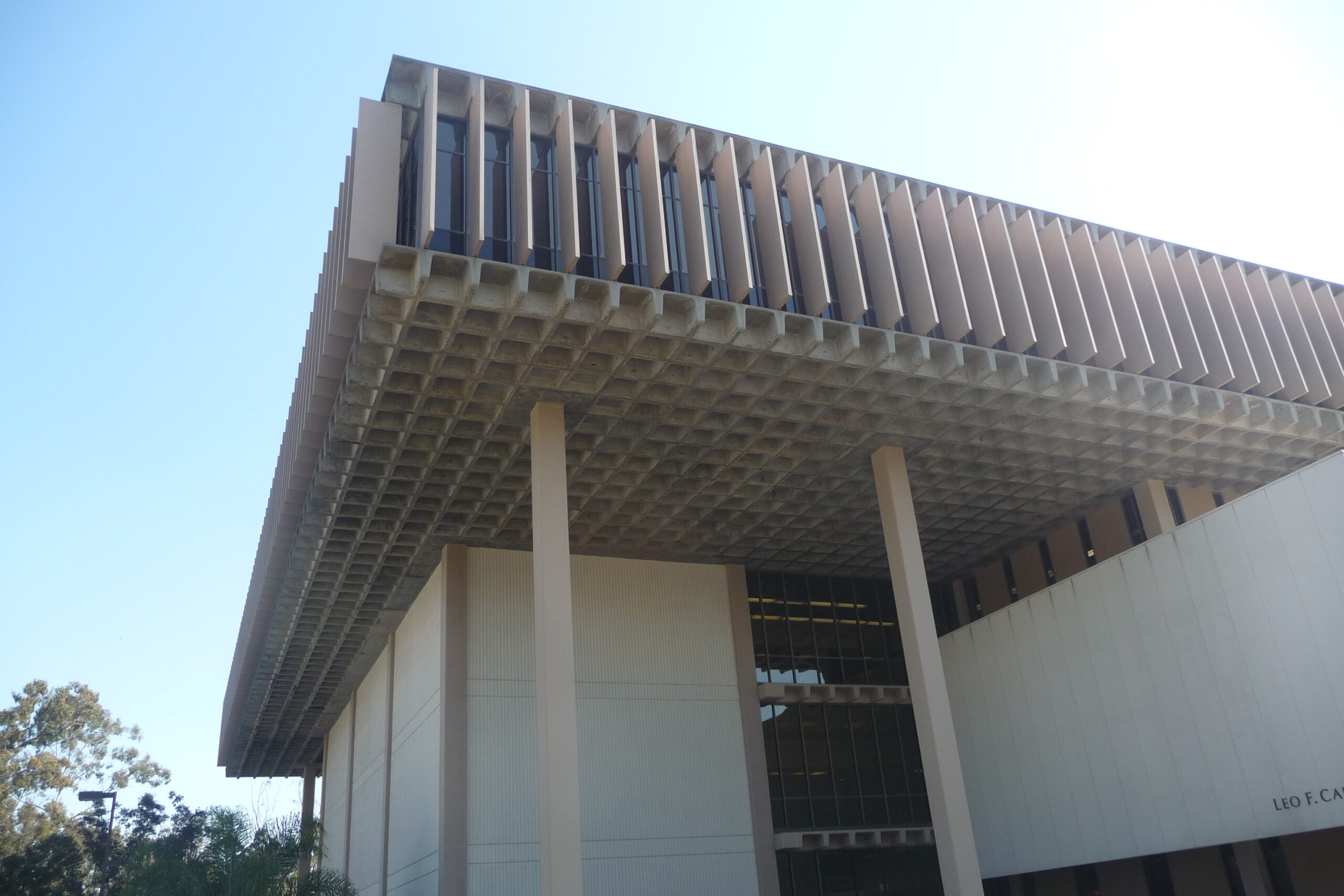 Place
California State University, Dominguez Hills
Using the rolling topography and mild outdoor climate as his palette, the architect masterfully integrated broad landscapes of green lawns and concrete walkways, punctuated by an abundance of trees.
California State University, Dominguez Hills was founded as South Bay State College in 1960, and soon after changed to its present name. The nascent school began instruction in 1965 before any of its buildings were constructed on a new campus in the Dominguez Hills area of Carson, but its master plan was in place by 1964.
Architect A. Quincy Jones created the master plan, drawing on his experience planning other campuses and building complexes; the first buildings were not completed until 1968, and the development of the campus under Jones' plan continued until his death in 1979. Jones was well known for his skill at integrating structures and landscapes, and his plan for CSU Dominguez Hills reflected this by making the rolling topography and mild outdoor climate part of the campus.
The campus buildings are integrated into broad landscapes of green lawns and concrete walkways punctuated by abundant trees (eucalyptus and coral are the most common, with eucalyptus in particular serving as a unifying element). All of the buildings are similar in style, construction method, and materials, typified by details like flat roofs with large continuous overhangs, extensive use of glass, and vertical window fins for light regulation.
Ranging in style from New Formalist to Brutalist, their most distinctive feature is their exposed concrete construction system, the concrete waffle slab method, which serves as both structure and ornamentation. If you look at the underside of any of the wide roof overhangs, you will understand how the waffle slab got its name. The buildings are arranged in courtyard-like configurations for a feeling of low density and easy access to the landscape outside, and range from one to three stories in height. The courtyard clusters are linked together with walkways, some of which are elevated to compensate for changes in elevation. Jones' master plan for CSU Dominguez Hills shaped the campus to be a unified and lovely whole, showcasing the best in Modern design.