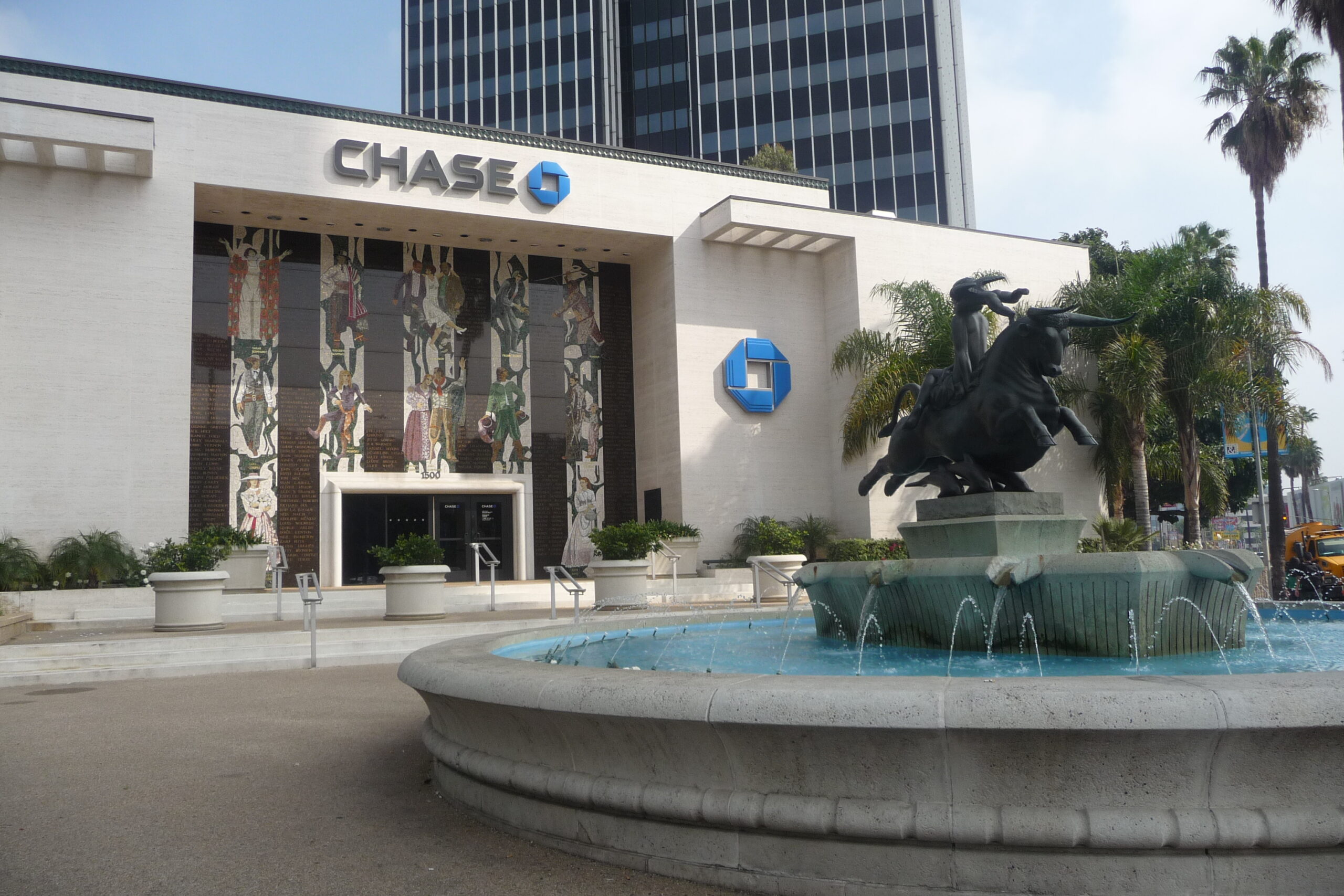 Place
Chase Bank, Hollywood
One of his favorite mural-bearing bank buildings, architectural designer Millard Sheets drew on the Hollywood history of its location in a simple white New Formalist structure.
Of the many mural-bearing bank buildings that Millard Sheets designed for Home Savings and Loan, the one at the corner of Sunset and Vine in Hollywood was one of his favorites. It is also one of the best-known today, standing, as Sheets put it, like a "little, special plum" among much larger buildings with much less visual character.
Home Savings and Loan owner Howard Ahmanson, Sr., who built the company by making home loans to Southern Californians during the postwar boom, loved Sheets' designs and this one was no exception. The 1968 bank (now a Chase bank) was built on the site where parts of Hollywood's first full-length motion picture, The Squaw Man, were filmed in 1913.
It fittingly draws on the Hollywood history of its location, its simple white New Formalist structure facing the famous intersection of Sunset and Vine.
The building is dominated by a huge mosaic mural of Hollywood's greatest stars in their best-known roles, with black granite panels inscribed with other stars' names running vertically behind the larger figures. A large fountain surrounding a 1920s Paul Manship sculpture of Europa riding Zeus in bull form sits in front of the bank, further marking the corner as a landmark and meeting place.
Another façade of the building features a set of elaborate stained-glass windows by Susan Hertel, depicting famous chase scenes featuring everyone from the Keystone Kops to Moby Dick. The Home Savings Bank on Vine Street is a real jewel of art and architecture, and a breathtaking tribute to the beautiful fictions of Hollywood.