Architect
Millard Sheets, Architectural Designer
Millard Sheets was a highly influential artist, designer, and educator who made an indelible impression on the Southern California landscape.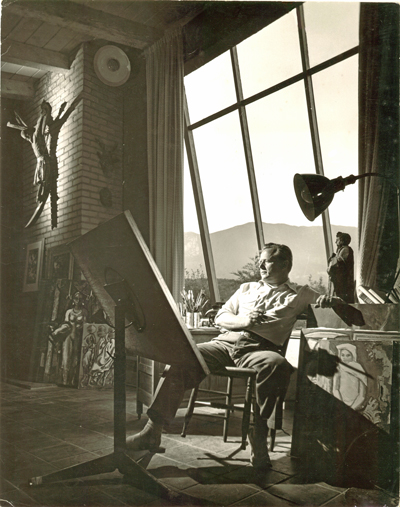 Millard Sheets (1907-1989)
Born in 1907 in Pomona, Sheets graduated from the Chouinard Art Institute in 1929. He became a nationally renowned and highly influential artist with the California School of painting. He gradually transitioned into architecture but was never licensed, working instead with licensed architects and contractors to realize his innovative designs. 
His buildings are generally recognized by their rectilinear forms and flat planes of natural stone that serve as a backdrop for bold integrated artwork. His architecture shares New Formalism's reinterpretation of traditional forms and styles with modern aesthetics. 
Sheets had a philosophy of the integrated arts, exploring the relationship between art, architecture, dance, and music. He collaborated closely with regional artists and planned for art throughout the design process, rather than placing artwork on a building as an afterthought. He created buildings that connected with the public on an emotional level, often using artwork to depict local or historical themes significant to the community.
His use of artwork in his commercial projects attracted the attention of financier Howard Ahmanson, head of the Home Savings and Loan Association. Ahmanson hired Sheets in 1954 to design the new Beverly Hills branch of Home Savings and Loan. With its colorful mosaics and stained glass windows, the building proved so popular with customers that Ahmanson hired Sheets to design over forty additional Home Savings branch offices as part of the company's expansion plan. 
Other notable Sheets buildings include the Scottish Rite Masonic Temple (1961) on Wilshire Boulevard and many examples in Claremont and Pomona.
Sheets worked throughout his life to bring awareness to the integrated arts. During the Great Depression, he helped the Public Works Administration put artists to work. He helped found the Otis Art Institute, led the Scripps College Art Department for nearly two decades, and oversaw the L.A. County Fair's art exhibition program for many years. Sheets died in 1989. 
In recent years, Sheets' work has grown increasingly vulnerable to demolition and excessive alteration. The integration of art and architecture in his buildings underscores the importance of protecting both structure and site-specific art together, in situ, as part of Sheets's unique legacy.
Related Places
Place

Los Angeles County Arboretum & Botanic Garden

Place

New Balance / Home Savings, Santa Monica

Place

Chase Bank, Beverly Hills
Place

Los Angeles County Arboretum & Botanic Garden

Place

New Balance / Home Savings, Santa Monica

Place

Chase Bank, Beverly Hills

Place

First Bank and Trust

Place

Chase Bank, Hollywood