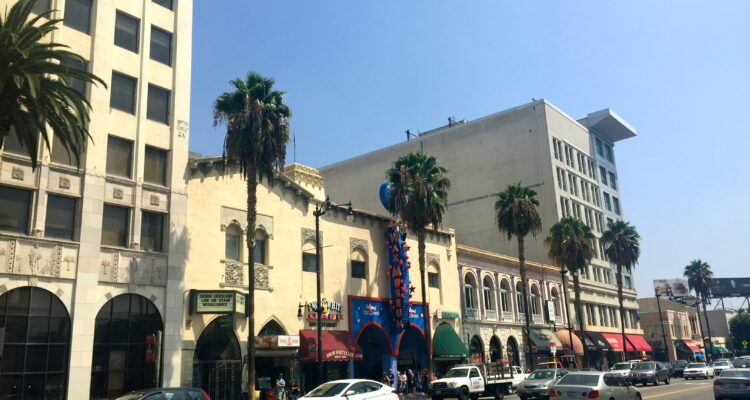 Place
Christopher Street West / L.A. Pride Parade
Christopher Street West spearheaded the first permitted LGBTQ pride parade in Hollywood in 1970.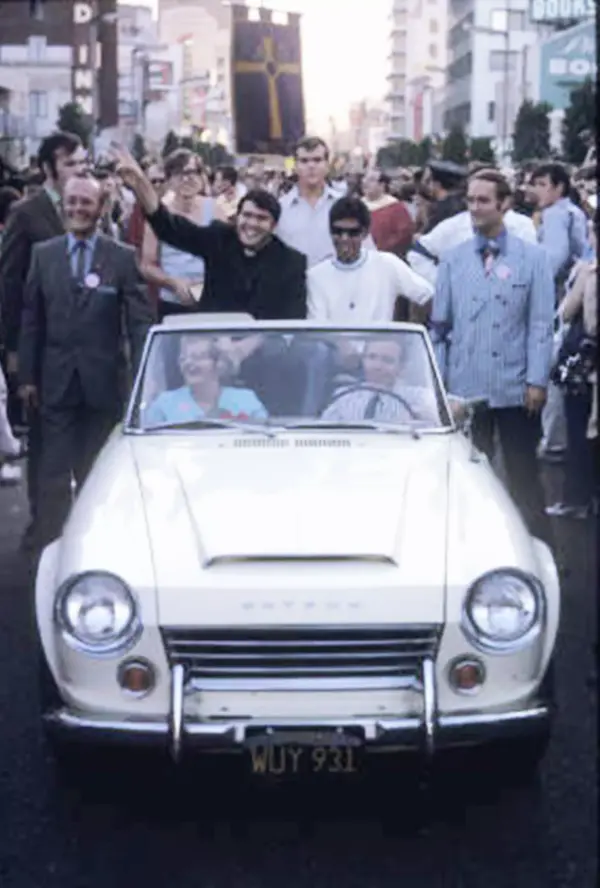 Overview
On June 28, 1970, Hollywood Boulevard swelled with one thousand gay, lesbian, bi, and transgender activists who announced their presence with signs, laughter, and chants. Today, we're all familiar with  Pride parades. In 1970, however, Los Angeles had never witnessed a gathering such as the Christopher Street West Parade.
The Christopher Street West Parade began as a celebration of LGBTQ+ resistance during the New York Stonewall Riots and to demonstrate visibility both to each other and the rest of the world. The first permitted parade, Christopher Street West followed similar freedom of speech marches in Chicago, San Francisco, and New York that same weekend.
Since its beginnings in the early 1970s, the parade now known as LA PRIDE continues its historic legacy as both a celebration of LBGTQ+ communities and platform for political advocacy.
Christopher Street West Association, Inc. is a nonprofit LGBTQ+ service organization founded in 1970 and incorporated in 1976. Today, the offices of Christopher Street West are located in West Hollywood.
About This Place
Los Angeles' first pride parade was conceived when Reverend Bob Humphries, founder of the United States Mission, Morris Kight, a founder of the Gay Liberation Front, and Reverend Troy Perry, founder of the Metropolitan Community Church, came together to commemorate the one-year anniversary of Stonewall. They persisted against Los Angeles Police Commission, which attempted to deny the event, and eventually obtained a permit for the parade.
The original route went along Hollywood Boulevard, starting at Hollywood and Highland, moving east to Vine Street, and then back to Hollywood and Highland to finish. The parade route has since moved to West Hollywood.
Christopher Street West and similar parades across the county in the summer of 1970 set a global precedent which continues to shape movements for LGBTQ+ equality.
The L.A. Police Commission created a series of obstacles in an attempt to stop the parade. City authorities required organizers to post two bonds, the first for $1 million and the second for $500,000, as well as $1,500 in cash to pay for the police officers who would be dispatched to protect parade attendees.
The organizers were also required to recruit at least 3,000 participants in order to receive permission to march in the streets. If they failed to meet that number, marchers would have to remain on the sidewalks.
Reverend Perry knew these requirements were unjust, so he went to see Herbert Slewyn, an attorney with the American Civil Liberties Union (ACLU). The same day, the California Superior Court ordered the Police Commission to issue a permit to the organizers with the receipt of the $1,500 security payment, but that all other requirements be dropped.
When delivering his decision, the judge ruled in the favor of the organizers, arguing that all citizens deserved equal rights and protection under that law. He also ordered law enforcement to protect spectators in addition to marchers.