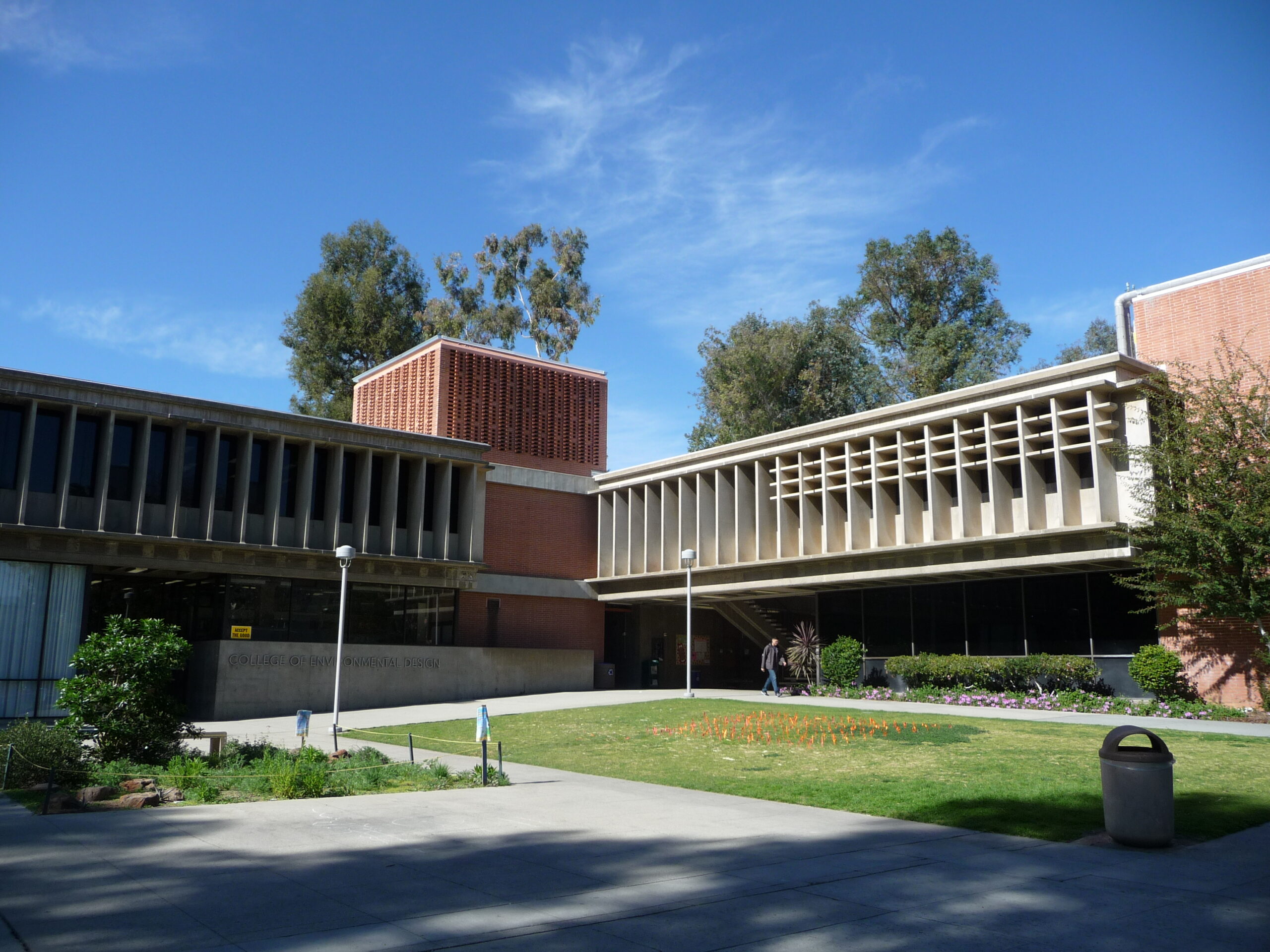 Place
College of Environmental Design, Cal Poly Pomona
With its exposed concrete, brick, and glass, Maston's design expresses itself itself in a functional yet aesthetically pleasing place for students to practice their craft.
When Cal Poly Pomona opened its School of Environmental Design, it housed it in a new building designed specifically for the ambitious young program. The new school housed students in landscape architecture and urban planning as well as architecture.
Completed in 1971, "Building 7" provided an inspiring learning environment for these departments in a Brutalist building at a corner of campus bounded by the curve of South University Drive. It was designed by architect Carl Maston, who was known for his Modern designs for everything from garden apartments to shopping centers.
Maston created a building split into two, two-story wings that meet at a right angle, sheltering a paved entrance plaza. Each wing also covers its own central interior space, punctuated by large staircases. The wings include wide brick towers connected by longer horizontal concrete volumes that jut outward. The towers contain service areas and are unornamented except for small grilles and simple sans-serif signage, while the concrete volumes contain offices, studios, and common spaces. The building's first floor is mostly floor-to-ceiling glass windows, while the upper floor is supported by narrow concrete columns and has windows that are shaded by vertical and horizontal concrete fins.
With its exposed concrete, brick, and glass, Maston's design for the College of Environmental Design expresses its structure in a straightforward way without appearing bulky or overwhelming. It is a functional and aesthetically pleasing place for students of environmental design to practice their craft.