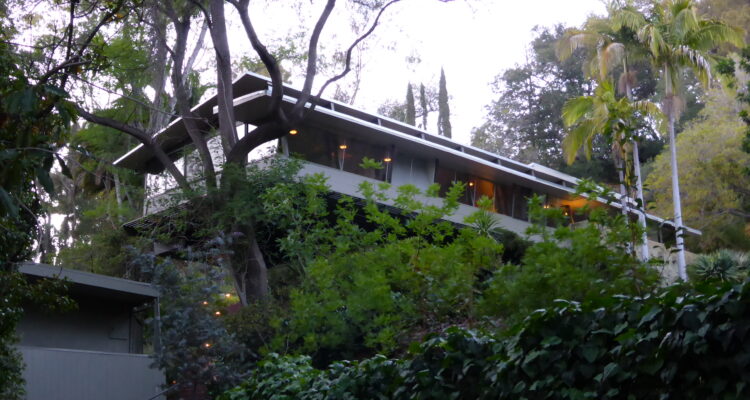 Place
Crestwood Hills
What began as four musicians wanting to raise the level of middle-income family housing prospered into a utopian community in the middle of some of the most prime real estate in the country.
In 1946, four musicians pooled their resources to form a cooperative housing group, which quickly grew to include 400 members and become known as the Mutual Housing Association (MHA). The group purchased 800 acres in the Santa Monica Mountains (an area later known as Crestwood Hills) and hired architects A. Quincy Jones and Whitney R. Smith and structural engineer Edgardo Contini. MHA was to become the only successful housing cooperative effort in California during the immediate postwar years, with acreage set aside for a park now owned by the City and a cooperative nursery school still operating today.
The architects drew up twenty-nine house plans, many of them slight variations on nine different designs. The experimental, Modern-style designs boasted open plans with great expanses of glass creating an illusion of free-flowing space, extending the sight line to the property line. Building materials consisted of exposed concrete block, redwood siding, and Douglas Fir ceiling planks. Houses were oriented to respect the privacy of each individual house, often placed at a 45-degree angle to the street.
The Architectural Guidelines established by the MHA founders stated that all houses were to be a maximum of one story from the street level.
This measure assured the proper scale for a neighborhood dependent on maintaining views over the rooftops of houses situated on lots below. These guidelines continue to set the neighborhood off from those that surround it. The high level of detail and the experimental nature of the designs raised the level of middle-income family housing, formerly reserved for the custom home. With the bravado characteristic of the immediate postwar period, MHA houses reflect an optimistic view to the future through modern design.