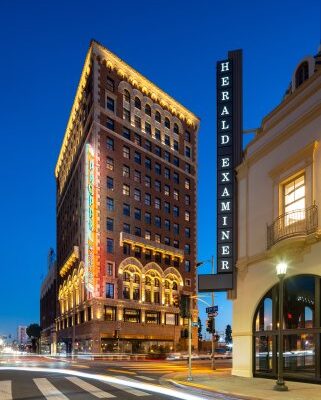 Place
Downtown L.A. Proper Hotel
The adaptive reuse of this Renaissance Revival marvel into a modern hotel shows how old buildings can be repurposed while adding to the revitalization of a historic district.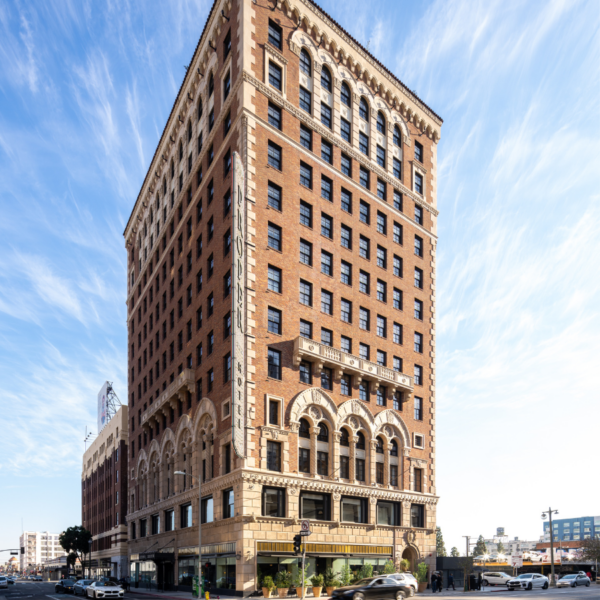 Constructed in 1926, the Commercial Club of Southern California was the social annex of the Los Angeles Chamber of Commerce. It differed from more traditional East Coast-style social clubs of the era, its mission was focused on the promotion of "the industrial and commercial development of Los Angeles." As a result, many prominent Angelenos joined, including film moguls Cecil B. DeMille and Harry Warner, department store owner Moses Hamburger, hoteliers, theater operators, and more.
Designed by Master Architects Alexander Curlett and Claud Beelman, it is considered a masterful representation of their work and partnership between 1919 and 1928. The 13-story building was constructed in a Renaissance Revival style adapted to commercial use. The Club occupied the building through 1932 when it ceased operations, hit hard by the stock market crash of 1929. The Cabrillo Club of Southern California took over in 1941, and the building was renamed the Cabrillo Hotel, then renamed again in 1947 as the Case Hotel. In 1965, the YWCA purchased the building and opened a short-term housing, job assistance, and rehabilitation facility that occupied the entire building until 2012.
Falling into disrepair, the YWCA knew the building's upkeep fell beyond their expertise, so they decided to sell to someone who could bring it back to its former glory. Proceeds from the sale then enabled the YWCA to build a state-of-the-art campus and Job Corps center just two blocks away. Continuously occupied from 1926 to 2012, it was purchased by the KOR Group and Alma Development in 2013. The project team responsible for turning the building into a Proper Hotel property sought to maintain as much of the original historic fabric as possible, and many of the original interior features remain intact. The lobby ceiling, racquetball court, and swimming pool, were all incorporated into the rehabilitation.
Its transformation into a modern boutique hotel helps create a sense of place on the south end of the historic Broadway Theater and Entertainment National Register Historic District and reconnects it to the historic district of downtown Los Angeles. The restoration work for the Downtown L.A. Proper Hotel earned a Preservation Award from the L.A. Conservancy in 2023.
2023 Celebration Video
The L.A. Conservancy celebrated the 2023 Preservation Awards winners at the historic Television City in Hollywood with a video showcasing their stories. The program celebrated their hard work, dedication, and achievement. We're thrilled to share Downtown L.A. Proper Hotel inspiring stories with you.