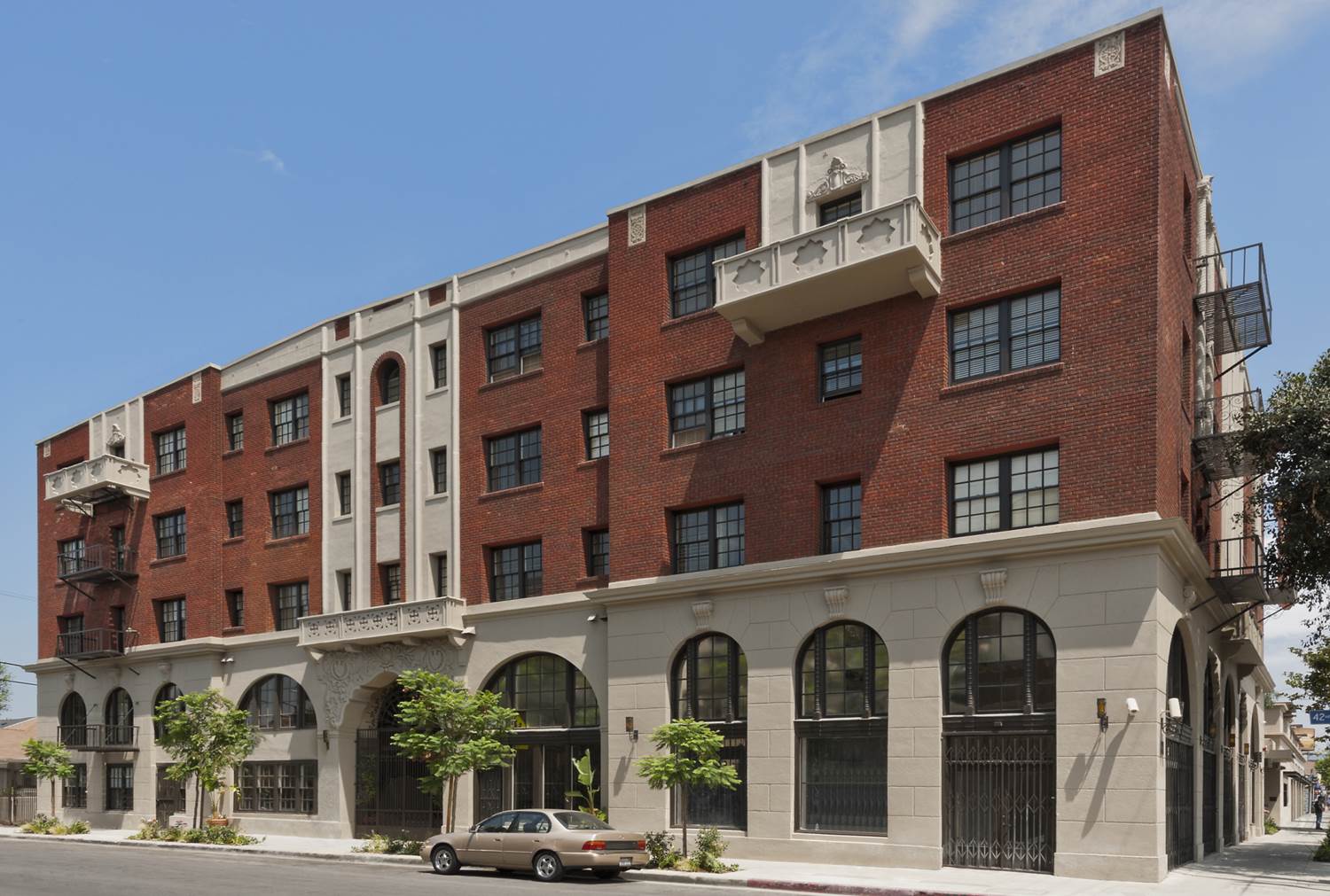 Place
Dunbar Hotel
A beloved landmark of L.A.'s African American heritage has reclaimed its rightful place as a vibrant community resource.
Built as the Hotel Somerville, the Dunbar Hotel played a key role in L.A.'s African American community for decades. Doctor John Somerville built the hotel for the first West Coast convention of the National Association for the Advancement of Colored People in 1928. The hotel provided first-class accommodations for African Americans in segregated Los Angeles, who were denied comparable lodging elsewhere.
The hotel was a great source of pride, having been financed and built by African Americans. An instant landmark, it was considered the finest black hotel in the nation—and quickly sparked the area's development.
The Dunbar was an important gathering place for notable figures, intellectuals, and community leaders.
At the heart of the Central Avenue jazz scene, many prominent jazz musicians stayed or performed there, including Louis Armstrong, Duke Ellington, Count Basie, and Bessie Smith. Other notable guests included Bill "Bojangles" Robinson, Hern Jefferies, Langston Hughes, Joe Louis, Arthur B. Spingarn, and W. E. B. Du Bois.
The Dunbar fell into a slow decline starting in the 1960s and stood vacant for over a decade. Despite several attempts at renovation, the building languished until the City put it into receivership.
Thomas Safran Associates and the Coalition for Responsible Community Development revived the hotel as the centerpiece of Dunbar Village, an affordable housing project for seniors and families. Reversing years of deferred maintenance and alterations, the team restored hundreds of original features with great attention to detail, while fully upgrading the building for modern use. The building's atrium, which was enclosed years after the building was first constructed, was reopened as a communal space with skylights and replicated tiles, flooring, and a fountain in the same location as the original – all elements that bring back the hotel's grandeur.
The work to restore this Central Avenue gem earned a Conservancy Preservation Award in 2014.
Of the overall project's eighty-three units, the Dunbar provides forty-one affordable apartments for seniors, as well as a beautiful gathering space for the community. Some of the current residents were active participants in Central Avenue's jazz scene during the 1960s.
Looking to contact the Dunbar Hotel?
The Conservancy does not own or operate the Dunbar Hotel. For any requests, please contact the Dunbar Hotel directly at (323) 234-7882.