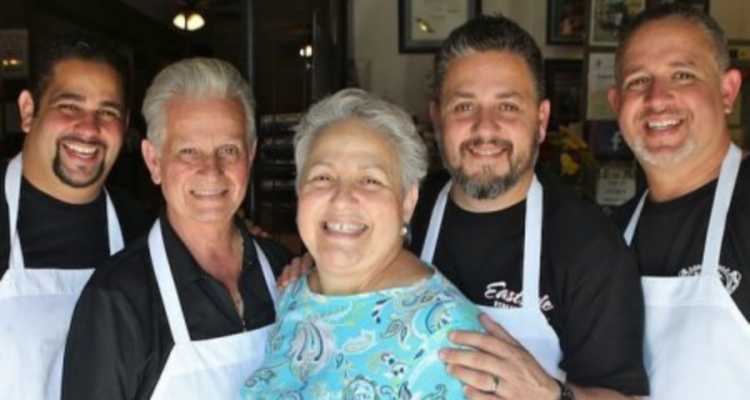 Place
Eastside Market Italian Deli
One of the last remaining businesses in L.A.'s once thriving Little Italy, still making some of the best sandwiches in town!
In 2019, Eastside Italian Deli located on Alpine Street in the Victor Heights' neighborhood of Los Angeles celebrated its 90th anniversary. Its story predates the building, when Puglia-born Domenic Pontrelli opened Eastside Market, his first retail meat market in Lincoln Heights, named after nearby Eastside Brewery. By 1929, the business outgrew its facility. Pontrelli and Joe Campagna moved the business to a larger location, where it remains today. 
Meats, cheeses, vegetables, and pasta could be found at Eastside Market, a neighborhood anchor in what was once part of L.A.'s thriving Little Italy. As the community grew, so did the business. Pontrelli's son-in-law opened Pontrelli & Laricchia Sausage Company inside the market by the 1930s.   
In 1959 Johnny Angiuli got a job sweeping floors at the market and his brother Frank was later hired as a delivery driver. Johnny eventually learned the butcher trade and when the wholesale sausage business moved to a larger facility in 1974, the Angiuli brothers purchased Eastside Market.
As grocery stores became more dominant and customers' food preferences started to shift to fast food and food-to-go, the owners reorganized the market around a new deli counter. "I brought in the hot food with a little stove with one burner, then two burners, then an oven," said Johnny Angiuli. 
Today the business is run by Angiuli's sons, Anthony, Rocco, and Vito. According to Vito, their #7, Roast Beef & Pastrami sandwich, has kept customers coming back all these years. Created by the elder Angiuli, the enormous sandwich is dunked in a homemade tomato sauce. The quality of food and affordability has broadened their loyal customer base, which includes City Hall employees, construction workers, police officers, and residents alike.  
During the COVID-19 pandemic, Eastside Deli created the Frontline Family Meals program, which aims to feed frontline workers through the public's generous donations. Watch our interview with co-owner Vito Angiuli, where he shares how this legacy business is continuing to serve the community during uncertain times: