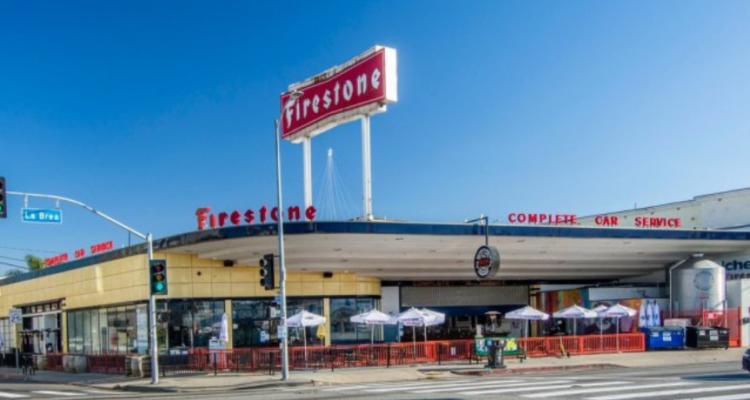 Place
All Seasons Brewing Co./Firestone Tire and Service Center
This prototype for Firestone exudes speed and motion, essential to the Moderne style.
Originally built as Firestone Tire and Rubber Service Station in the 1937, this sleek product of twentieth-century Machine Age design was considered ultra modern at the time it was constructed.  The eye-catching streamline moderne style hugs the corner of La Brea Avenue and 9th Street with its low horizontal lines and curved edges. The dramatic cantilevered overhang accentuates the modern look, as does the porcelain steel panels and radiant Firestone sign. The aerodynamic design gives the illusion of speed, precision, and efficiency, with uninterrupted horizontal lines and rounded corners.
In continuous operation since 1937, Firestone was designated a Historic-Cultural Monument in 2012, but closed its doors in 2015. When plans emerged to turn the property into a brewery, the adaptive reuse project adhered to the Secretary of Interior Standards, using period materials and fixtures to preserve the vintage feel of the space.
The sensitive rehabilitation of the property, which celebrates L.A. car culture at its zenith, won a Preservation Award from the L.A. Conservancy in 2023.
2023 Celebration Video
The L.A. Conservancy celebrated the 2023 Preservation Awards winners at the historic Television City in Hollywood with a video showcasing their stories. The program celebrated their hard work, dedication, and achievement. We're thrilled to share All Seasons Brewing Co./Firestone Tire and Service Center inspiring stories with you.