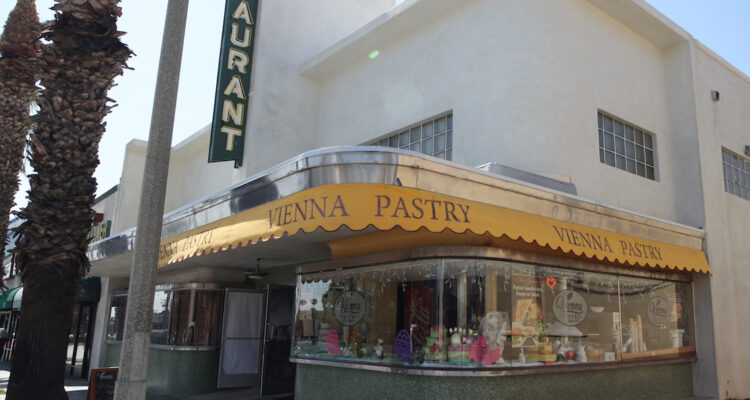 Place
Ingo's Tasty Diner/Vienna Pastry
This building has always housed restaurants and bakeries.
Restaurateur Art Groves had this building constructed to house Groves Restaurant and Bakery.
By 1948, the restaurant portion had been leased to Melvin Callahan, who opened his restaurant, Callahan's, in its place. More recently Ingo's Tasty Diner has occupied the restaurant space, while the bakery portion of the building has been occupied by Vienna Pastry since the 1970s.
As an example of Streamline Moderne architecture, the building conveys a sense of motion with its curves, smooth surfaces, and horizontal lines. A tall pylon sports signage to attract motorists along Wilshire.
The asymmetrical facade contrasts a wraparound curve on its eastern portion with an angled treatment on its western side. Enhancing the building's sleek appearance is the stainless steel finish of the streamlined entrance canopy.
The restaurant's floor of orange and green terrazzo extends outside to the sidewalk. Inside, a skylight once cast natural light on diners, though it is currently concealed behind a suspended ceiling.
The restaurant's current owners nominated the building for local landmark designation, and in July 2015 the City of Santa Monica's Landmarks Commission unanimously approved the building for historic designation.