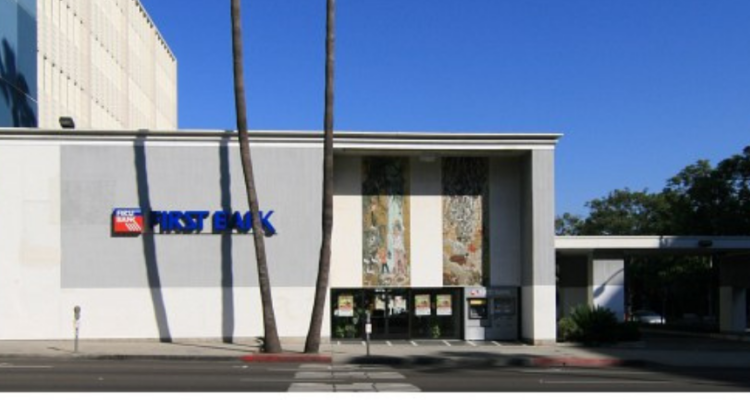 Place
First Bank and Trust
Millard Sheets and S. David Underwood thoroughly integrated art into this building for Ahmanson Bank and Trust.
This two-story bank, designed by artist Millard Sheets in association with architect S. David Underwood, was constructed in 1959 as the new permanent home of the Ahmanson Bank and Trust Company.
The building incorporates thematic imagery in the form of tile mosaics, stained glass, and integrated sculptural elements. Its noteworthy design was honored in 1960 by the Los Angeles Beautiful Committee.
Dual mosaics at the front entrance depict scenes of two parents enjoying nature with their children. At the rear, dual stained-glass windows portray representations of day and night, featuring the sun and moon, respectively, with various flora and fauna.
The dove figures prominently on interior mosaics, as well as on the exterior's east elevation, which features sculptural elements in the form of stylized blossoming trees.