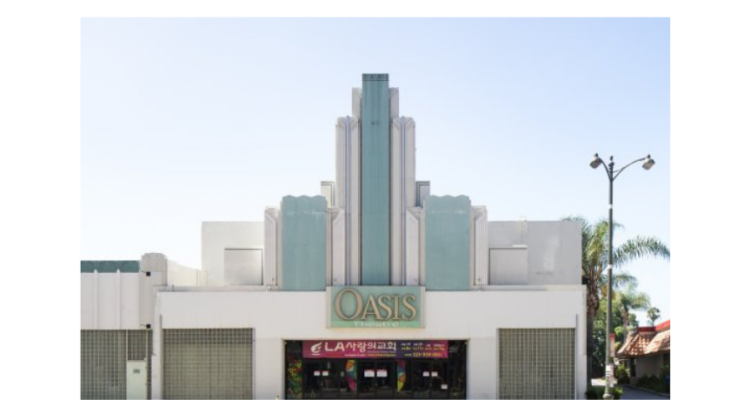 Place
Four Star Theatre Building (Demolished)
This theatre at the corner of Wilshire and Mansfield opened in 1932 as one of several theatres commissioned by United Artists and Fox West Coast Theatres. It was designed by the renowned firm of Walker and Eisen, with Clifford Balch as architect.
The building's glorious Art Deco details include inscribed chevrons, stripes, and abstract figurative and floral motifs, as well as a central tower that rises in a series of staggered steps.
The theatre reopened in 1933 as the Four Star Theatre, intended as "a haven where picture lovers, whether they be glamorous celebrities or obscure nonentities, may relax and amid simple settings [and] enjoy the entertainment they came to see," reported the Los Angeles Times.
Within a few years, though, the theatre was a popular spot for glamorous movie premieres, with billboard-styled signage, klieg lights, and red carpets.
In 1997, the theatre was purchased by Oasis Church and painted green and white. The building was renamed Oasis Theatre in 2007 and was available for rentals, with church services on Sundays.
The building was sold in 2012 and was demolished in early 2015 for a mixed-use development spanning the entire block, called The Mansfield.