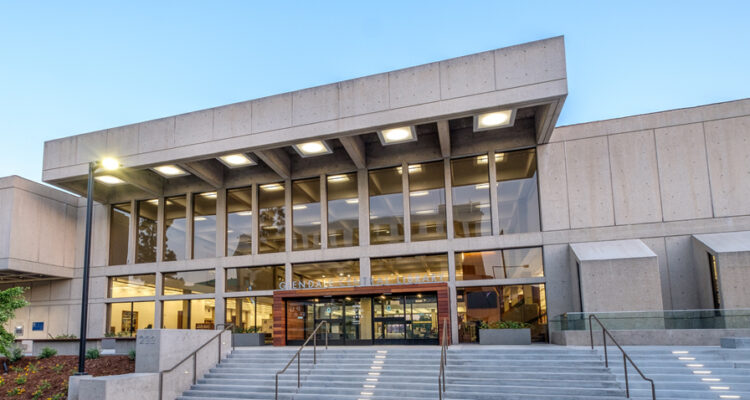 Place
Glendale Central Library
A rehabilitation project embraced a 1973 Brutalist design, adapting it to meet the changing nature of libraries while respecting and reviving its historic character.
Located in downtown Glendale just east of Brand Boulevard, the 1973 Central Library has served the community for decades.
Architect Marvin Taff of Welton Becket and Associates designed this Brutalist-style building composed of cast-in-place concrete. The heavy character of this architectural style was a popular choice for civic and educational buildings of the period, evoking the importance of the building's function. The central portion of the building houses the Great Room, a two-story expanse intended as a flexible, open space where the community could gather.
Over time, the building suffered from years of deferred maintenance. The surrounding neighborhood and the needs of library patrons also changed. The City embarked on an ambitious plan to bring the library into the twenty-first century while maintaining and reviving the building's historic character.
A seismic upgrade added discreet concrete shear walls. Upgraded heating and cooling systems were relocated to an underused loading dock area, leaving little impact on the building and allowing for the construction of a new paseo where the previous systems had been located.
The entrance of the library was originally on the east side of the building, facing the parking lot. In recent years, a thriving downtown shopping and arts district had emerged to the west of the library. To better connect to the surrounding neighborhood, the project team designed a new main entrance on the north side of the building that is visible from busy Brand Boulevard. To make this major change with minimal impact on the original architecture, the team built the new entrance between existing concrete window frames.
A secondary entrance on the south side of the building provides access via the new paseo connecting the library to nearby arts and community sites, including an adjacent adult recreation center and the nearby Museum of Neon Art.
On the interior, the Great Room continues to serve as an open space for the community, hosting public events and gatherings. Its new furnishings can be easily rearranged for different needs, meeting the original intent of the design. An original clock overlooks the space from the elevator shaft, giving the feel of a clock tower overlooking a town square.
This project embraced the often-derided Brutalist style, adapting the building to meet current safety standards and reflect the changing nature of libraries. Today's library is more than shelves of books: the project included a new TeenSpace, an outdoor café, a reading spa, exhibition space, a recording studio, and a rentable space with tools for local artists and craftspeople to use.
The Glendale Central Library is reinvigorated as a lively space for the community with respect for its history. This project earned a Conservancy Preservation Award in 2018.