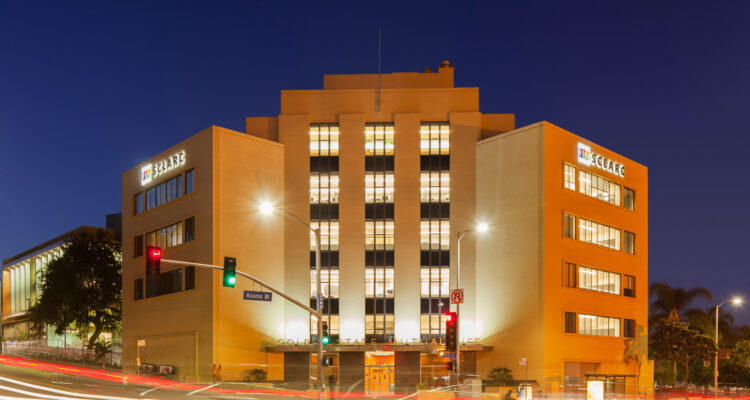 Place
Golden State Mutual Life Insurance Building
In 1949, Golden State Mutual moved into a new, custom-built home office designed in the Late Moderne style by renowned architect Paul Revere Williams.
Saved
In 2013, a legal settlement allowed the new owner of this Paul R. Williams designed building to retain two character-defining interior murals that were previously proposed to be removed and sold.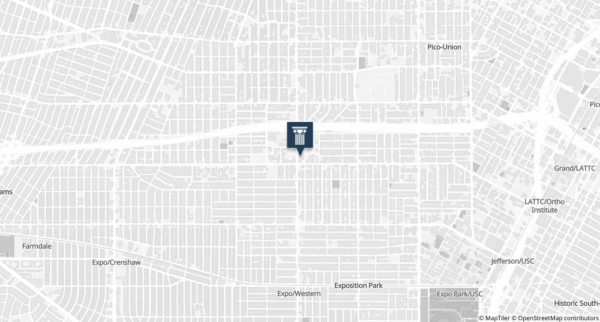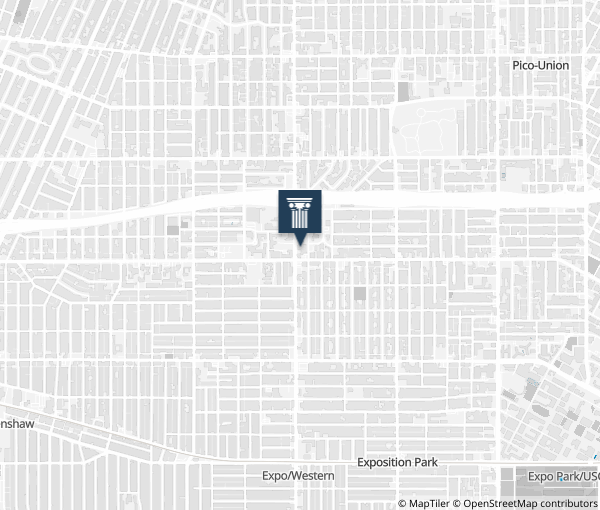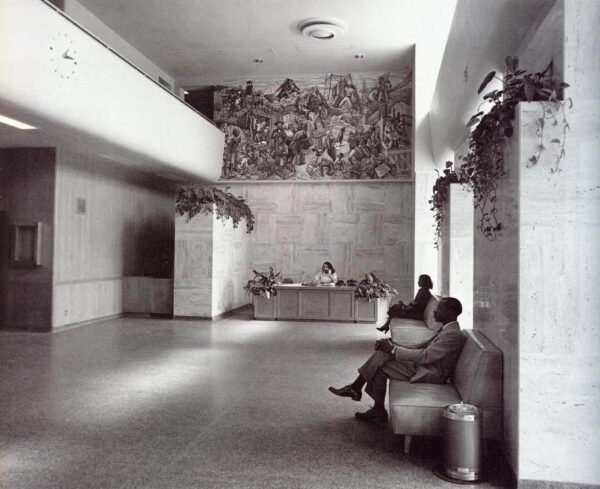 Overview
In 1949, Golden State Mutual Life Insurance Company found a new home in West Adams. The insurance company was the country's largest Black-owned enterprise, and filled a crucial need for Black Angelenos by providing both life insurance as well as employment opportunities.
The building was custom-designed by renown Black architect Paul R. Williams in the Late Modern building style. It features two site-specific murals depicting African Americans' experience in California from 1957 through 1949.
The Conservancy successfully nominated the building as a Los Angeles Historic-Cultural Monument in 2011. We worked with the building's new owners, Community Development Impact, West Adams Heritage Association and other community advocates, to ensure that this architecturally and culturally significant building and its murals remain intact as a cultural asset to the community.
About This Place
About This Place
What became the Golden State Mutual Life Insurance Company was founded in 1925 by William Nickerson, Jr.; Norman Oliver Houston; and George Allen Beavers, Jr. It was one of the first companies to offer life insurance to African Americans in Los Angeles, who were routinely denied coverage by white companies. The company quickly grew as they expanded to fill a huge void for African Americans. A 1978 company history described the home office as "a symbol of black enterprise and of loyal service to many thousands."
Conceived by Williams as part of the building's design are two murals that flank the upper portion of the double-height lobby. The oil-on-canvas works were painted by noted African American artists Charles Alston and Hale Woodruff. Each mural measures more than sixteen feet long and nine feet tall. Titled The Negro in California History, the works are highly significant examples of integrated art in Los Angeles celebrating Black history.
Golden State Mutual closed in 2009 and the building was purchased by Community Development Impact. The South L.A.-based social service agency won a legal battle to retain the murals in their historic context, and successfully renovated the building to offer services to people with developmental disabilities.
After the building was designated a local Historic-Cultural Monument and listed on the National Register, much-needed restoration began. The team researched archives and interviewed original occupants to gather information about the building's original state. They then began the painstaking task of removing layers of incompatible alterations from past years, as well as repairing years of extensive water damage.
The team restored the building's exterior to its original 1949 appearance by removing decades' worth of incompatible alterations, rehabilitating original doors and windows, and reopening key window spaces that had been covered for years. They also restored interior spaces to their original look, including the main lobby with the original murals.
Our Position
When the building was sold to Community Development Impact, the interior murals became the subject of a highly publicized legal dispute over their potential sale and removal from their historic context to pay Golden State Mutual's remaining debts.
The Conservancy supported Community Impact Development's successful legal efforts to prevent the sale of the murals, as we believed them to be integral to the building's significance.