Architect
Paul R. Williams
By any measure, the accomplishments of trailblazing architect Paul Williams are astounding.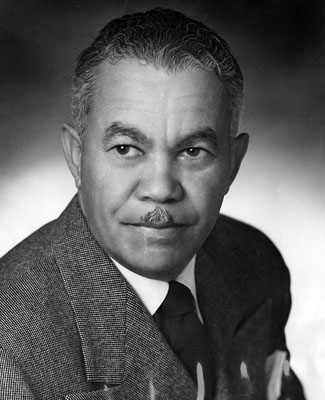 Paul Revere Williams, FAIA (1894-1980)
By any measure, the accomplishments of trailblazing architect Paul Williams are astounding. In a career spanning almost six decades, Williams designed more than 3,000 structures and mastered a range of architectural styles.
He broke racial barriers, becoming the first African American member (and later, Fellow) of the American Institute of Architects (AIA), as well as a civic leader.
Born in Los Angeles in 1894, Williams was orphaned at the age of four. Exceptionally gifted, he landed internships and jobs at prominent, local architecture firms immediately after high school in 1912, despite prevailing racial prejudice. Discouraged by his elders yet undeterred, Williams took classes at the Los Angeles Beaux-Arts School, ultimately attending USC's School of Engineering.
In 1920, he was appointed to the first Los Angeles City Planning Commission. The following year, he became a certified architect and began working for the great John C. Austin. Williams opened his own practice in 1923, later serving as an architect for the Navy during World War II.
He designed almost 2,000 homes in Los Angeles alone, many for wealthy businessmen and Hollywood stars. Yet he also designed affordable homes, public housing, and a host of civic, commercial, and institutional buildings. Regardless of style or use, his work shared the common threads of elegant composition and perfect proportion.
Williams was part of the LAX planning and design team. His mid-twentieth-century designs include the Los Angeles County Courthouse, the Golden State Mutual Life Insurance Building, Hillside Memorial Park, Westwood Medical Center, and First AME Church. He renovated the iconic Ambassador Hotel (now demolished) and transformed a supermarket on Wilshire Boulevard into the chic restaurant Perino's (also demolished).
Highly astute, Williams masterfully navigated the business and social circles of the day. He even learned to draw upside down in order to sketch for clients from across the table—for the benefit of any white clients who might have been uneasy sitting next to an African American.
He received numerous accolades, including the AIA Award of Merit, the NAACP Spingarn Medal, and USC's Distinguished Alumni Award. In 1957, he became first African American to become an AIA Fellow. Williams was posthumously awarded the AIA's 2017 Gold Medal, America's highest honor for an architect. Williams is the first African American to receive the AIA Gold Medal.
Williams retired in 1973, fifty years after opening his practice. He passed away in 1980 at the age of 85. Despite his legendary status and prolific output, examples of Williams' work face increasing threats of demolition or excessive alteration.
Related Places
Place

Second Baptist Church

Place

Perino's (Demolished)

Place

Westwood Medical Plaza
Place

Second Baptist Church

Place

Perino's (Demolished)

Place

Westwood Medical Plaza

Place

Kenneth Hahn Hall of Administration / Los Angeles County Hall of Administration

Place

Stanley Mosk Courthouse / Los Angeles County Courthouse

Place

28th Street Apartments

Place

Hillside Memorial Park, Al Jolson Shrine

Place

Castera-Ward Residence

Place

Golden State Mutual Life Insurance Building

This the Late Moderne-style building was designed by renowned architect Paul Revere Williams.

Place

Ambassador Hotel (Demolished)

One of Los Angeles' defining historic sites, the Ambassador fueled development of Wilshire Boulevard and housed the worl...

Place

Founder's Church of Religious Science

Place

First African Methodist Episcopal Church