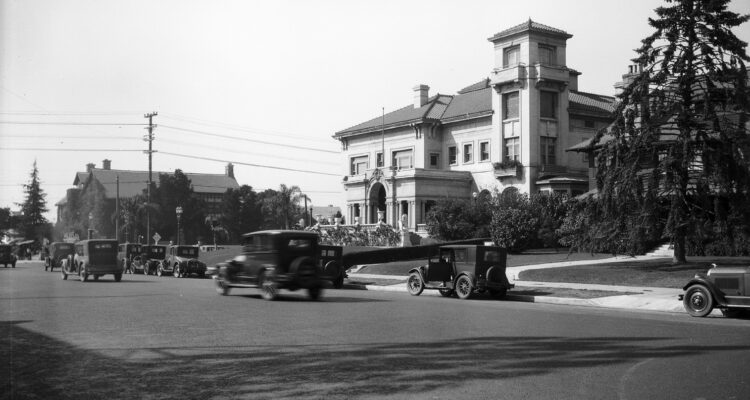 Place
Hancock Mansion (Demolished)
This 23-room mansion was inspired by the Villa Medici in Florence.
A busy Metro Red Line station stands today on the site of the Villa Madonna, one of the early boulevard's most renowned residences.
Mrs. Ida Haraszthy Hancock, the daughter of an exiled Hungarian count and Polish noblewoman, inherited Rancho La Brea and an adobe home at the La Brea Tar Pits when her husband, Major Henry Hancock, died in 1883.
She and her son, G. Allan Hancock, sold off pieces of the rancho for subdivision into Hollywood and other communities. With the profits, they financed construction of a twenty-three-room mansion inspired by the Villa Medici in Florence.
Mrs. Hancock filled the rooms with European and Asian art and furnishings. She died in 1913 just as the mansion was being completed, leaving her son to preside.
The home and its elaborate music salon hosted recitals by violinist Jascha Heifetz and cellists Pablo Casals and Gregor Piatigorsky.
The music salon and other rooms are preserved in the Hancock Museum at the University of Southern California, where G. Allan Hancock was a trustee.