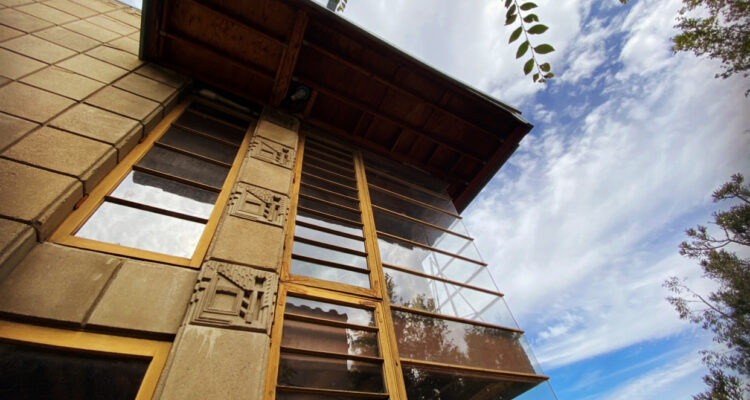 Place
Harriet and Samuel Freeman House
The Harriet and Samuel Freeman House is the smallest of Frank Lloyd Wright's textile block houses in Southern California. Under the ownership of the Freeman's until 1986, the property gained a rich architectural and cultural legacy.
UPDATE: On September 15, 2022, at 10:00 a.m., the owner and their project team will deliver an informational presentation for the proposed rehabilitation of the Freeman House to the City of Los Angeles's Cultural Heritage Commission (CHC).  The CHC meetings can be accessed via Zoom using Meeting ID: 810 2056 1535 and Passcode: 638501.
Located in the Hollywood Hills, the Freeman House is the smallest of four Southern California textile block residences designed by Frank Lloyd Wright and built during the 1920s. For nearly sixty years, Samuel and Harriet Freeman lived in the home. In 1986, at the time of Harriet's death, the home was donated to the University of Southern California's (USC) School of Architecture who stewarded the property until its sale in 2022. As part of a condition of the sale, the property is now under a conservation easement with the Los Angeles Conservancy. In February of that year, the Freeman House was sold to a new private owner with the easement in place.
Wright's design was completed in 1925 and shortly thereafter in 1926 the Freeman's began to undertake a series of interior alterations which reflected their personal tastes rather than Wrights. The owners commissioned notable modernist architect and Wright protégé Rudolf Schindler to design and supervise the work. The Freeman's developed a close personal relationship with Schindler, who served as the family architect until his death in 1953.
Schindler's work in the house included creating a downstairs apartment for Sam Freeman after the couple separated, converting the garage and lower loggia into a rental apartment, and designing suites of furniture for the living room and Harriet's bedroom.
After Schindler's death, the Freeman's engaged several prominent Southern California architects early in their careers. These include Gregory Ain, John Lautner, and Eric Lloyd Wright, all of whom contributed to the architectural legacy of the residence. 
Following the property's donation to USC by Harriett, the Freeman House experienced significant damage caused by the 1994 Northridge earthquake. In 2000, after the building was deemed uninhabitable, USC commenced with seismic repair and stabilization of the house. At that time many of the interior fittings and finishes were removed and placed in storage. Due to the significant cost of rehabilitation and desire to see it transferred into private ownership with safeguards, USC chose to sell the building in 2022.