Architect
R. M. Schindler
Rudolph Michael Schindler was one of the seminal master architects who defined Modern architecture in Southern California.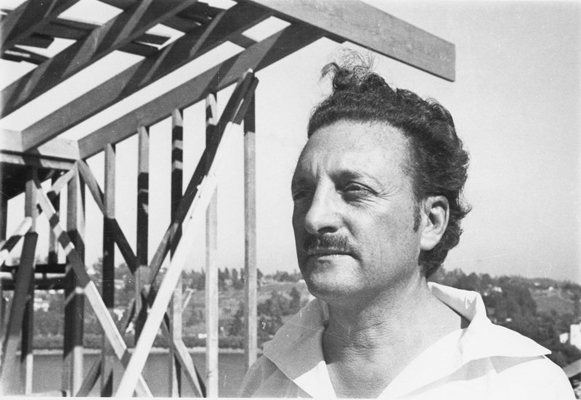 R. M. Schindler (1887-1953)
Born in Vienna in 1887, Schindler was trained in art and engineering at the Imperial Technical Institute and the Vienna Academy of Arts. He absorbed the influences of the Austrian avant-garde at the turn of the twentieth century, under the tutelage of pioneers Otto Wagner and Adolf Loos. At the encouragement of Loos, Schindler committed to a career in architecture and emigrated to the U.S. in 1914.
Schindler began his American career at the Chicago firm of Ottenheimer, Stern, and Reichert. Yet he used much of his time to study firsthand the work of Frank Lloyd Wright, whom he had come to admire after seeing Wright's groundbreaking Wasmuth portfolio in Vienna. In 1918, Schindler joined Wright's studios in Taliesin, Wisconsin.
It was through Wright that Schindler made his way to Los Angeles in 1920 to supervise construction of Hollyhock House. Enamored with the climate, light, and natural beauty of Southern California, Schindler chose to stay in Los Angeles and open his own practice. 
His own home and studio on Kings Road (West Hollywood, 1921-22) is a masterpiece designed a pinwheel shape to house two families. Among other notable figures to occupy the home, fellow Austrian émigré Richard Neutra lived there upon his arrival in Los Angeles in the mid-1920s.
Schindler developed a style at once distinctly modern and uniquely responsive to local cultural, technological, and climatic conditions. A true blend of artist and engineer, Schindler constantly experimented with materials, construction techniques, and the composition of space. 
He was devoted to meeting the needs of each client and site, often designing on the challenging hillside lots that his clients could afford. One of his most beloved residential designs is the Tischler House (Westwood, 1949). 
While most of his built projects were single-family homes, he also designed multi-family housing including the Laurelwood Apartments (Studio City, 1949) and the Preservation Award-winning Bubeshko Apartments (Silver Lake, 1938-41). His Bethlehem Baptist Church (South Los Angeles, 1944) was his only church design and is one of very few examples of intact Modern architecture in South Los Angeles. 
Schindler faced more than one professional disappointment: he was excluded from the Museum of Modern Art's landmark 1932 exhibition on the International Style, as well as the Case Study House Program created by Arts + Architecture magazine founder John Entenza. His work was largely misunderstood and overlooked during his lifetime. Yet since his death in 1953, Schindler and his work have taken their rightful place in the canon of Modern architecture. 
Related Places
Place

Harriet and Samuel Freeman House

Place

Schindler Spec Houses
Place

Harriet and Samuel Freeman House

Place

Schindler Spec Houses

Place

Bubeshko Apartments

Place

Laurelwood Apartments

Place

Bethlehem Baptist Church