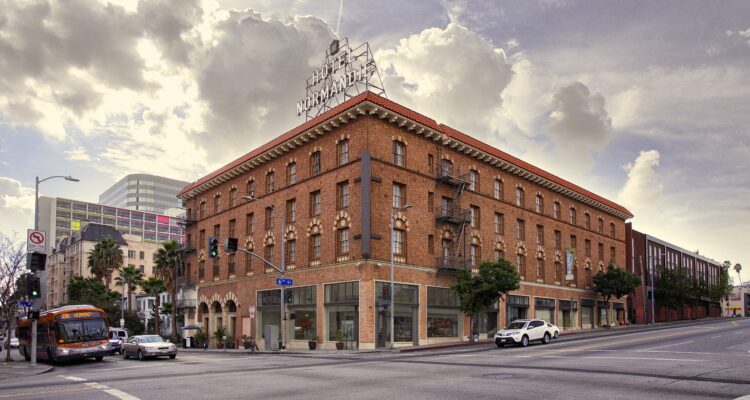 Place
Hotel Normandie
A dedicated owner rebuffed lucrative redevelopment bids for this historic hotel, essentially crowdsourcing a careful restoration and catalytic investment in the neighborhood.
In the heart of Koreatown stands Hotel Normandie, a 1926 landmark in the Renaissance Revival style. Noted architects Albert R. Walker and Percy A. Eisen designed the building during the height of L.A.'s eclectic revival craze.
This historic hotel is locally designated as a City of Los Angeles Historic-Cultural Monument, and is eligible for listing on both the National Register of Historic Places and the California Register of Historical Resources. Its 103 rooms hosted famous names during its glory days, most notably novelist Malcolm Lowry, who penned parts of his seminal work, Under the Volcano, during his stay.
Hotel Normandie operated continuously for ninety years, undergoing several alterations during its long history. Yet time took its toll and by 2011 the hotel was barely functioning. The rooms were littered with trash, and around thirty of them housed illegal activities.
In May 2011, the building's new owner began restoring the hotel. To add to the hotel's offbeat history, the multi-million dollar restoration was essentially crowdfunded—a highly uncommon way of funding a project of this type. Several large developers offered lucrative bids, hoping to redevelop the lot, but the dedicated owner rebuffed every offer.
Fortunately the building had been seismically retrofitted in the 1980s and was structurally sound. The team worked tirelessly to remove three decades' worth of incompatible alterations. They replicated missing windows, exposed covered brick, and removed layers of paint to reveal the original hand-painted decoration that remained hidden for decades.
One noteworthy alteration was the removal of the hotel's Mansard roof in the 1950s. The restoration team carefully rebuilt the terra cotta-tiled roof using architectural drawings and historic photos as guidance.
The entire building had also been covered with stucco. The team painstakingly removed all but a small portion of the stucco, which they left on the southeast corner of the building as a nod to its long history of alterations.
In 2012, the owner purchased another Koreatown icon, Cassell's Hamburgers (1948), then struggling to stay open. He moved the restaurant to the ground level of Hotel Normandie, where both local institutions now thrive. 
Hotel Normandie is a fantastic example of how a building can, with the right vision, return to its former glory, create jobs, and fuel the revitalization of a neighborhood.