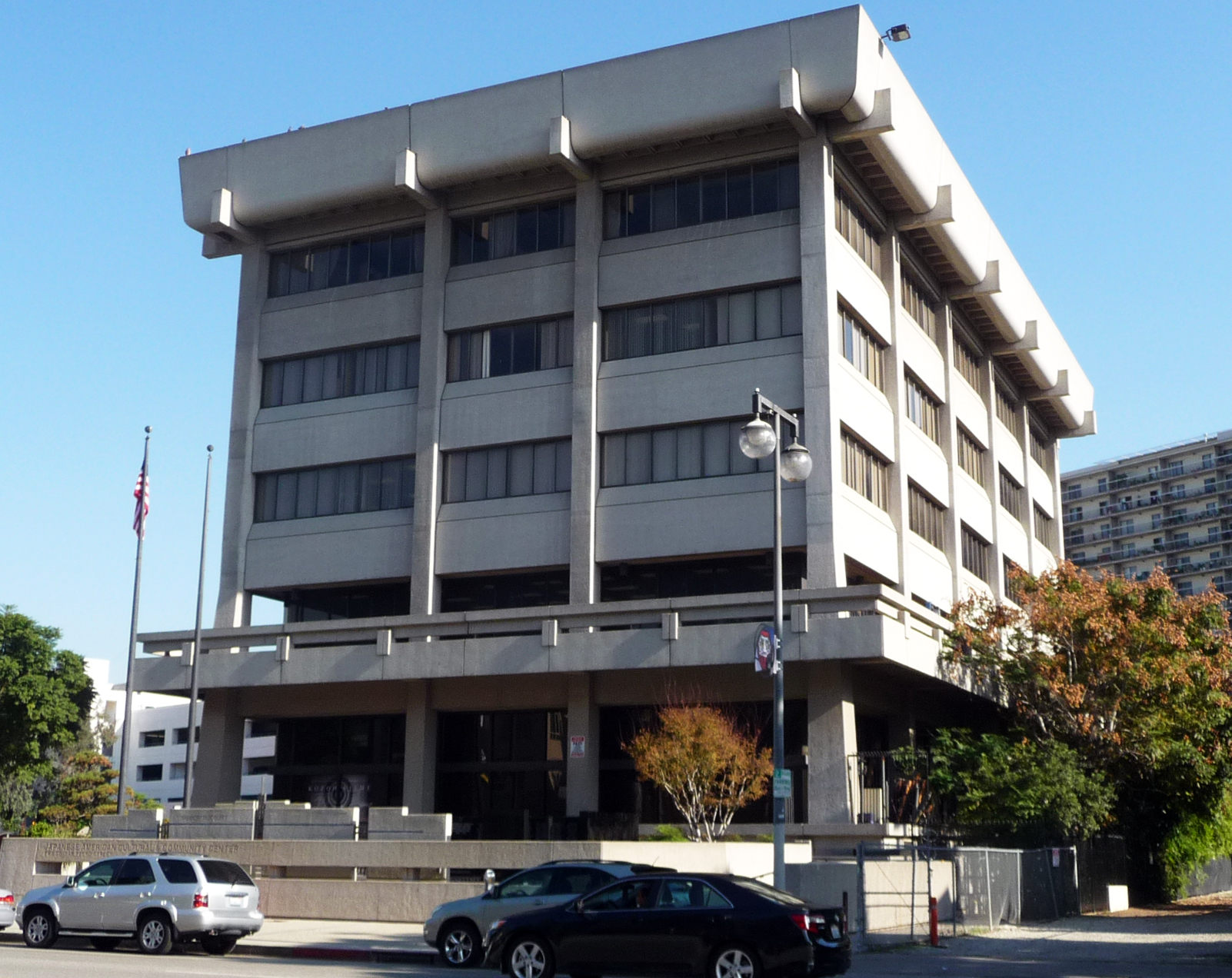 Place
Japanese American Community and Cultural Center
Developed between 1978 and 1983 and featuring a multi-level brick plaza designed by Isamu Noguchi, the complex stands out for its understated monumentality and simple beauty.
Little Tokyo's Japanese American Community and Cultural Center (JACCC) was the culmination of years of work by a group of Los Angeles' Issei and Nisei (first and second-generation Japanese Americans) to establish a permanent community center. Developed between 1978 and 1983, the complex was one of many development projects to take place in Little Tokyo at this time, but stands out for its understated monumentality and simple beauty.
The centerpiece is, appropriately, the Center Building, a five-story Brutalist structure designed by Kazumi Adachi, Kiyoshi Sawano, and Hideo Matsunaga. Its substantial concrete construction is softened by upturned roof eaves and stylized brackets that evoke traditional Japanese pavilion and pagoda architecture.
An open, multi-level brick plaza designed by Isamu Noguchi spreads out next to the Center Building, featuring large basalt boulders honoring a Japanese artistic tradition of slightly altering natural materials. The curved Aratani/Japan America theatre looks onto the plaza.
The most unexpected part of the JACCC lies hidden behind the Center Building: the James Irvine Japanese Garden, also known as Seiryu-en, "Garden of the Clear Stream." It is a quiet, lush oasis in the middle of the city, designed by landscape architect Takeo Uesugi and created by numerous volunteers. So many nurseries and individuals in the community donated plants for use in the garden, Uesugi had a difficult time figuring out how and where to integrate them all into the careful composition. The garden's stream starts as a turbulent waterfall and slows as it descends, representing the struggles and experiences of the Issei and Nisei. It becomes a gentle brook and ends in a quiet, shallow pond, evoking the resolution of differences and peaceful integration into American culture.