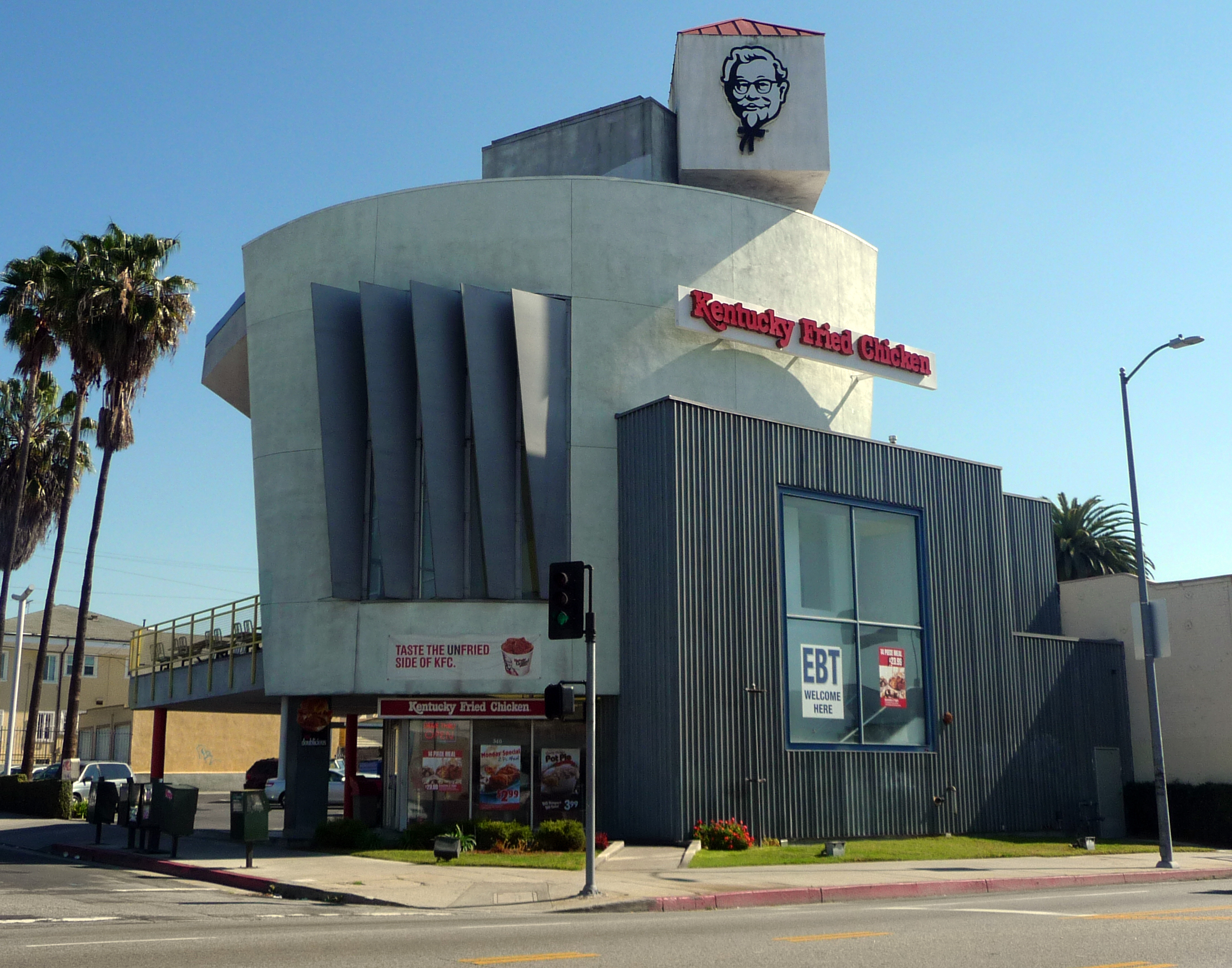 Place
Kentucky Fried Chicken
In the late 1980s, Kentucky Fried Chicken franchisee Jack Wilke wanted his location to have a design that paid tribute to the Googie architecture with playful, Deconstructivist design.
Since the chain's founding in the early 1950s, most Kentucky Fried Chicken fast food restaurants used the same standard design, with a false mansard roof topped by a cupola and signage featuring a large bucket. In the late 1980s, Los Angeles franchisee Jack Wilke decided to take a new approach, with the absent-minded blessing of the company: he wanted a new design that paid tribute to the Googie architecture of the 1950s in a modern way. Wilke hired Elyse Grinstein and Jeffrey Daniels of Grinstein + Daniels Architects to bring his vision to life, and they certainly did, with a twist both Deconstructivist and Programmatic.
Chosen partly for Grinstein's previous work with Frank Gehry, the firm created a two-story fast food restaurant that looks like a pile of play blocks topped by a curving volume that looks like the biggest bucket of Kentucky Fried Chicken that ever existed. The "bucket" section is accented by enormous vertical steel fins shading window bays, and its rear portion is opened up with floor-to-ceiling glass windows looking onto a second floor balcony. The building pays homage to the original standard style with a pseudo-cupola at its top, just a cube with a hipped roof and the smiling visage of the Colonel himself, balancing precariously atop the other geometric volumes. The interior of the restaurant is unusual as well: customers place their orders on the first floor and then ascend to the second floor's high-ceilinged dining room to retrieve their food from a dumbwaiter. This is a Kentucky Fried Chicken like no other, and a magnificent example of playful Deconstructivist design.