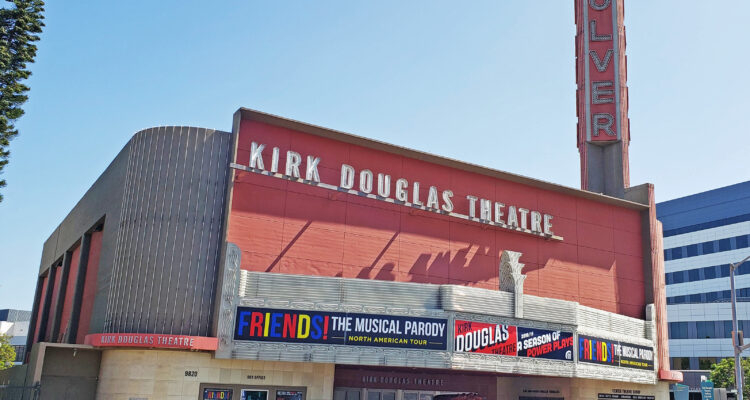 Place
Kirk Douglas Theatre
This Streamline Moderne movie theatre is now a live theatre venue.
Operating today as a live theatre, the Culver Theatre began its life in 1947 as a 1,160-seat venue showing movies. The Streamline Moderne structure with its distinctive name sign tower was built and operated by Fox West Coast Theatres. Theatre designer George Skouras gets credit for the decorative, richly-stylized, floral-like swirls and embellishments which once framed the auditorium's proscenium, extended along the theatre's walls, moved out into the lobby, and enveloped the concessions stand. His outdoor embellishments remain, however, adorning the box office, the marquee, and the 4-sided name tower. The entry's terrazzo floral motif paving complements Skouras' theme.  
By the 1970s, the single-screen theatre had become a triplex – a relatively easy remodel given the theatre's open, stadium-style seating (no overhanging balcony). The Northridge quake of 1994, however, forced the closure of the venue. But in 2004, following a two-year metamorphosis from motion picture house to live theatre, the Culver was re-configured and renamed. Thanks to the generosity of Anne and Kirk Douglas, as well as a grant from the Culver City Redevelopment Agency, the Kirk Douglas Theatre now features a 317-seat auditorium and multi-purpose rehearsal and event space.  While the interior long ago lost its 1947-era touches, the theatre's eye-catching exterior looks much as it did over 70 years ago.  
Today, the "Douglas" is part of Center Theatre Group (CTG), rubbing shoulders with The Ahmanson and The Mark Taper Forum. As Center Theatre Group describes it, the Kirk Douglas Theatre "…is our home for adventurous new work. It's where we do the most world premieres, play with conventions, and take risks."