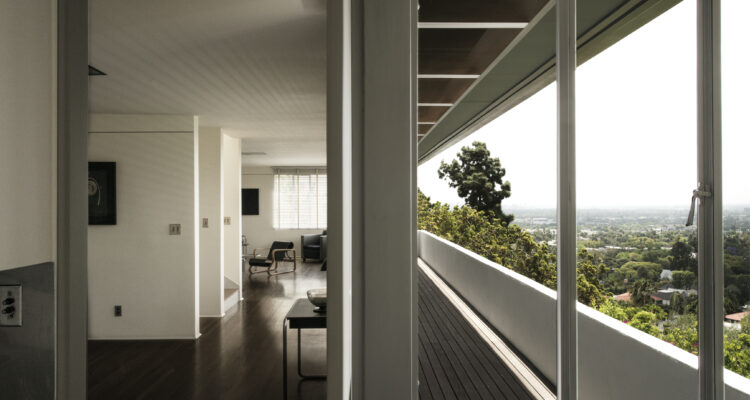 Place
Kun House
The extraordinary commitment of a private owner brought this Neutra home back to its original vision.
Modernist master Richard Neutra designed this home for Joseph Kun, a native of Hungary and publisher of the Los Angeles Examiner. Built between 1935 and 1936, the home overlooked the Los Angeles basin from its perch in the hills near Laurel Canyon.
The Kun Residence was one of the first "all-electric" homes in L.A., looking squarely to the future and embracing progress through technology.
The house featured many elements of the International Style and was honored by Architectural Forum in 1936. Neutra named architect Gregory Ain as a "collaborator" on the project. The house also launched the career of Julius Shulman, one of the twentieth century's greatest architectural photographers. Mr. Kun must have been pleased with the house; fifteen years later, he hired Neutra to design another one for him up the street.
The home remained in good condition over the years but was altered several times. In 2007, it was bought by an owner who had tried to purchase it thirty years earlier. This time, he prevailed. With an extraordinary commitment that would only grow over time, the new owner set out to restore the Kun House as closely as possible to Neutra's as-built vision.
An informal consortium called the Museum of Design and Manual Arts (MDMA) was formed to complete the project. The project team spent the first three years on research alone—poring over archives and photos, consulting with experts including architect Dion Neutra, and carefully documenting and removing non-historic alterations.
The work itself was beyond painstaking. All original fixtures were left in place, down to a chrome pantry rack in a closet. Historic elements needing repair were fixed but not restored to as-new condition: they kept their authentic patina.
When missing or no longer available, fixtures and materials were reproduced or replaced as closely as possible to Neutra's design intent. This approach applied all the way down to different plating on cabinetry knobs: chrome for service/utility spaces like the kitchen; nickel in the main living areas. Glass Vitroline, original to the kitchen and bathrooms, had long been removed. This material is no longer manufactured—but the team found some in a barn in Pennsylvania.
These are but a few details that illustrate the lengths to which the owner and MDMA went to achieve their goals. They sought to convey "a multiplicity of messages: restoration philosophies, modernist musings, historical and technological progress, and [existence] as a livable home in 2015." Mission accomplished: the Kun House stands as a testament to private stewardship and an inspiration to the preservation community, earning a Conservancy Preservation Award in 2015. With plans to share the knowledge they gained, MDMA is poised to make an even broader impact on preservation for years to come.