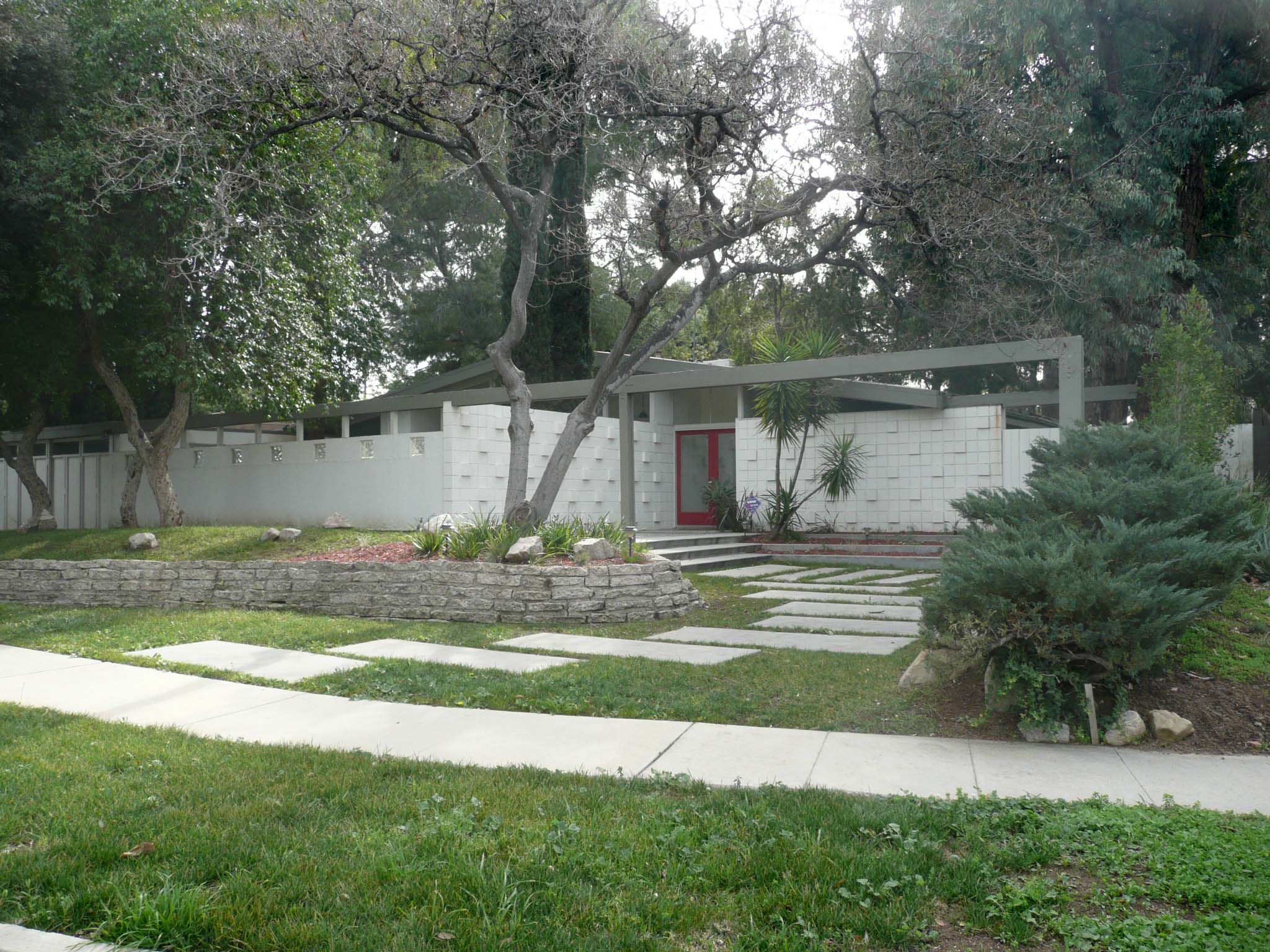 Place
Living-Conditioned Homes
In perhaps the most distinctive Mid-Century Modern residential neighborhood in the San Fernando Valley, these homes were "conditioned" to create a model modern living experience.
At the northeastern corner of Reseda Boulevard and Devonshire Street in Northridge stands one of the most distinctive Mid-Century Modern residential neighborhoods in the San Fernando Valley. Originally known as the Living-Conditioned Homes, the tract was developed by Sanford D. Adler in 1958-1959 to accommodate the growing numbers of new Valley residents at mid-twentieth century.
Architects Dan Palmer and William Krisel designed the houses in the tract, creating five different basic plans with many variations in orientation, setback and exterior finishes to create a district of harmonious but diverse homes. They are all Contemporary Ranch in style, featuring low-pitched roofs, dramatic entrances, overhanging eaves, and cladding including concrete block, board and batten, bead board, stucco, and natural stone.
The Living-Conditioned Homes tract is unusual in that it is the only Palmer & Krisel tract in the Valley that exhibits their flamboyant "Alexander style" with butterfly roofs, decorative stone cladding, and extensive use of decorative concrete block.
The homes were "conditioned" for optimal space, light, sound, and safety to create a model modern living experience, and were positioned on large lots to enhance the rural feel of the development.
Palmer & Krisel designed many other housing developments in Southern California and were well known for their thoughtful application of Modern living ideals on the scale of mass-produced housing. Their most iconic residential designs were done for the Alexander Construction Company, resulting in wonderful Mid-Century Modern tracts in the Palm Springs and San Fernando Valley areas.
This neighborhood is a fantastic collection of Palmer & Krisel's visually stunning Contemporary Ranch designs, prized by their owners. Many of the homes have been painstakingly restored to their original condition, down to the built-in kitchen blenders.