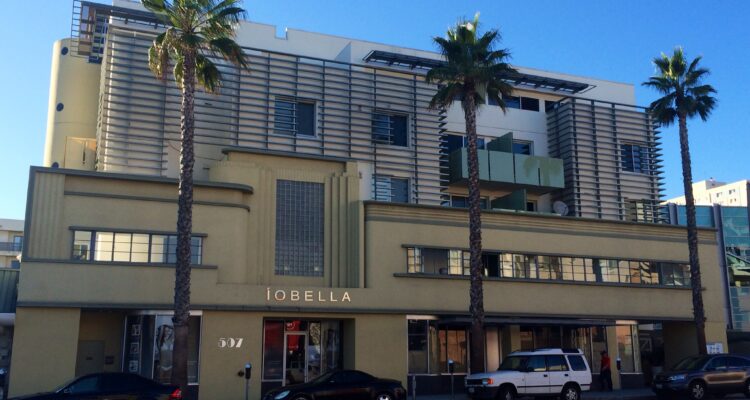 Place
LLO-DA-MAR Bowl
The "LLO" stood for Harold Lloyd, one of the proprietors.
Designed as a bowling alley, the original Streamline Moderne building was named "LLO-DA-MAR" after its three proprietors: movie star Harold Lloyd, Ned Day, and Hank Marino.
In addition to his legendary comedic talents, Lloyd apparently was a good bowler who used a specially drilled ball to accommodate a hand injury from a premature fireworks explosion during filming.
The bowling alley originally contained a mezzanine level with offices, a cocktail lounge, and a coffee shop. After serving as a bowling center for thirty years, the building was converted into retail space. Storefronts with floor-to-ceiling glazed windows were added along the Wilshire Boulevard elevation, and the large interior was partitioned into smaller spaces.
Despite these alterations, and additional changes following the 1994 Northridge earthquake, the building remained a good example of the Streamline Moderne style, with narrow bands of horizontal windows, curving corners, and teardrop shapes.
In the early 2000s, the building's moderne facade was retained when the site was repurposed as an office building. The Conservancy generally does not support projects that only retain portions or facades of buildings, commonly referred to as "facadism." This practice diminishes the role and value of an entire building and its historic importance, whereby meaningful preservation cannot be achieved by saving only a facade.