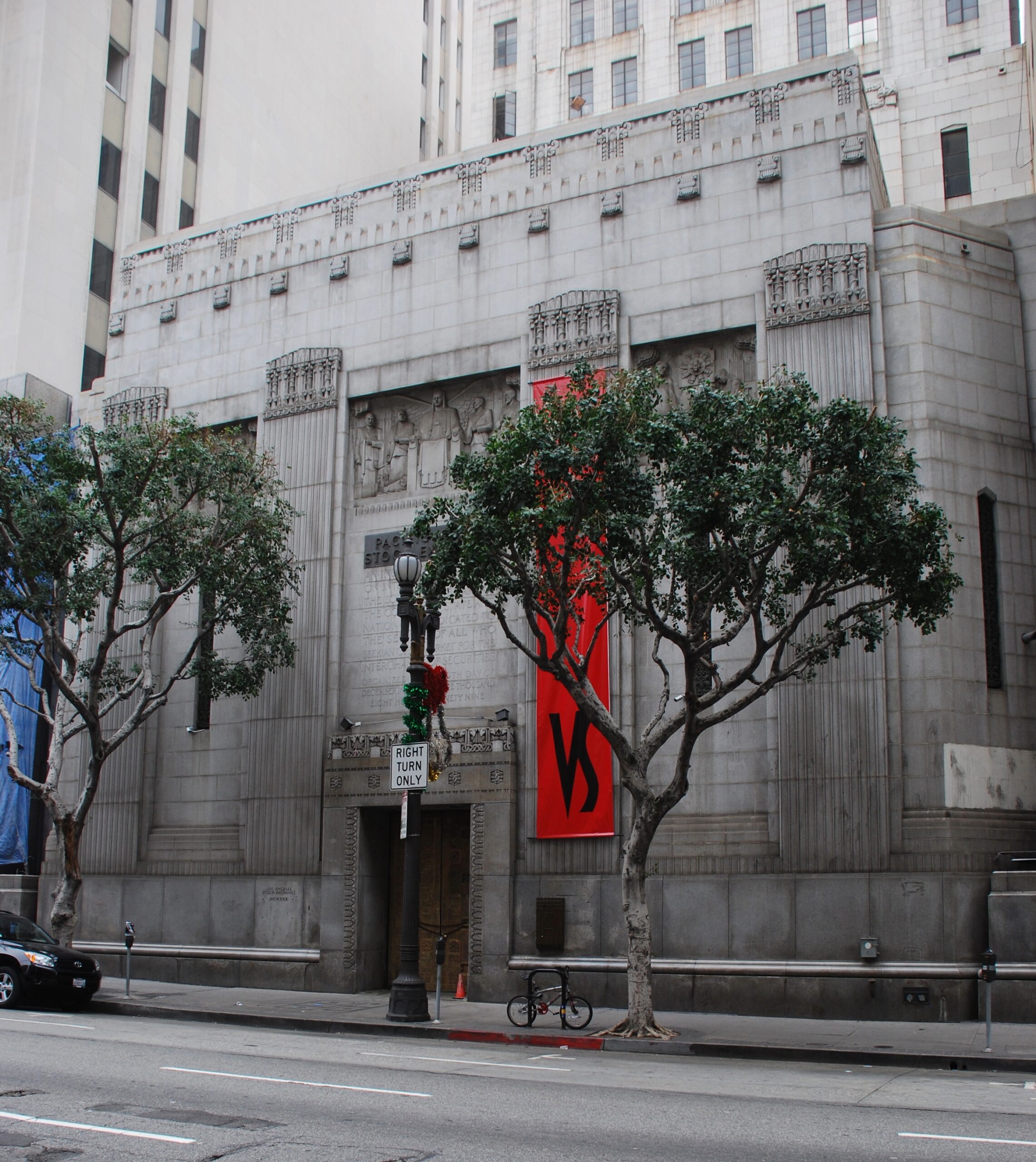 Place
Los Angeles Stock Exchange Building
Rising up amidst the rubble of the Great Depression, the building's imposing, fortress-like street façade was needed to convey financial stability.
As Los Angeles expanded southward in the early twentieth century, the city's banks and financial institutions began to concentrate along Spring Street. The Stock Exchange opened in 1931, in the midst of the Great Depression.
Designed in the Classical Moderne style to impart a sense of financial stability, the building's imposing, fortress-like street façade rises the equivalent of five stories. A slender twelve-story office tower clad in terra cotta is set back at the rear. The street façade is clad entirely in granite, a rarity in Los Angeles, where terra cotta was more economical. It features massive, fluted pilasters that frame three bas reliefs by sculptor Salvatore Cartaino Scarpitta titled Finance, Research and Discovery, and Production. The massive bronze entrance doors, twelve feet high and featuring intricate patterns in low relief, were claimed by the manufacturer to be the largest bronze doors of their type ever fabricated in this part of the country. Above the central entrance is an inscription incised into the granite that proclaims the mission and founding date of the Stock Exchange.
The Stock Exchange later became part of the Pacific Stock Exchange, and it moved out of the building in 1986. In the 1980s, the building was converted into a nightclub called the Stock Exchange. The Los Angeles Stock Exchange Building plays a key role in both the cultural and architectural history of the Spring Street financial district. After undergoing an extensive interior renovation, the building reopened in 2010 as ExchangeLA, a nightclub and event venue. The original exterior of the Stock Exchange Building remains intact, and the Conservancy holds an easement protecting its historic façade.