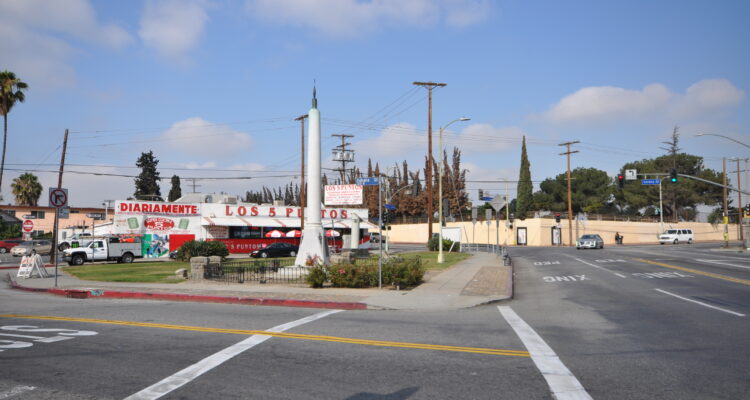 Place
Los Cinco Puntos
Located at the crossroads of Boyle Heights and East Los Angeles, Los Cinco Puntos reveals two meaningful local traditions.
Home to two important community assets, this unique site is referred to by many as Los Cinco Puntos in reference to the five points of intersection of East Cesar E. Chavez Avenue, Lorena Boulevard, and Indiana Street. 
The southern side of the intersection contains a butcher shop, or carnicería, named after Los Cinco Puntos. It is a simple stucco building and features a mixed media mural on one side. In addition to its meat and tortillas, the carnicería is popular during the holidays for its tamales. 
Additionally, Los Cinco Puntos/Five Points Memorial contains two plots honoring Mexican American veterans of World War II, the Korean War, and the Vietnam War. Together, these two memorials—Morin Square Memorial and War Memorial—pay tribute to the strong presence of the veteran community in the Eastside.
Every year on the eve of Memorial Day, there is a 24-hour vigil where volunteers stand guard over the memorials. The vigil concludes on the morning of Memorial Day with a ceremony that includes community leaders and politicians. 
On December 20, 1969, Los Cinco Puntos was the starting location of the first Chicano Moratorium march in protest of the Vietnam War in East Los Angeles. The demonstration was a significant milestone for Chicanx activists from the Eastside and drew national attention.