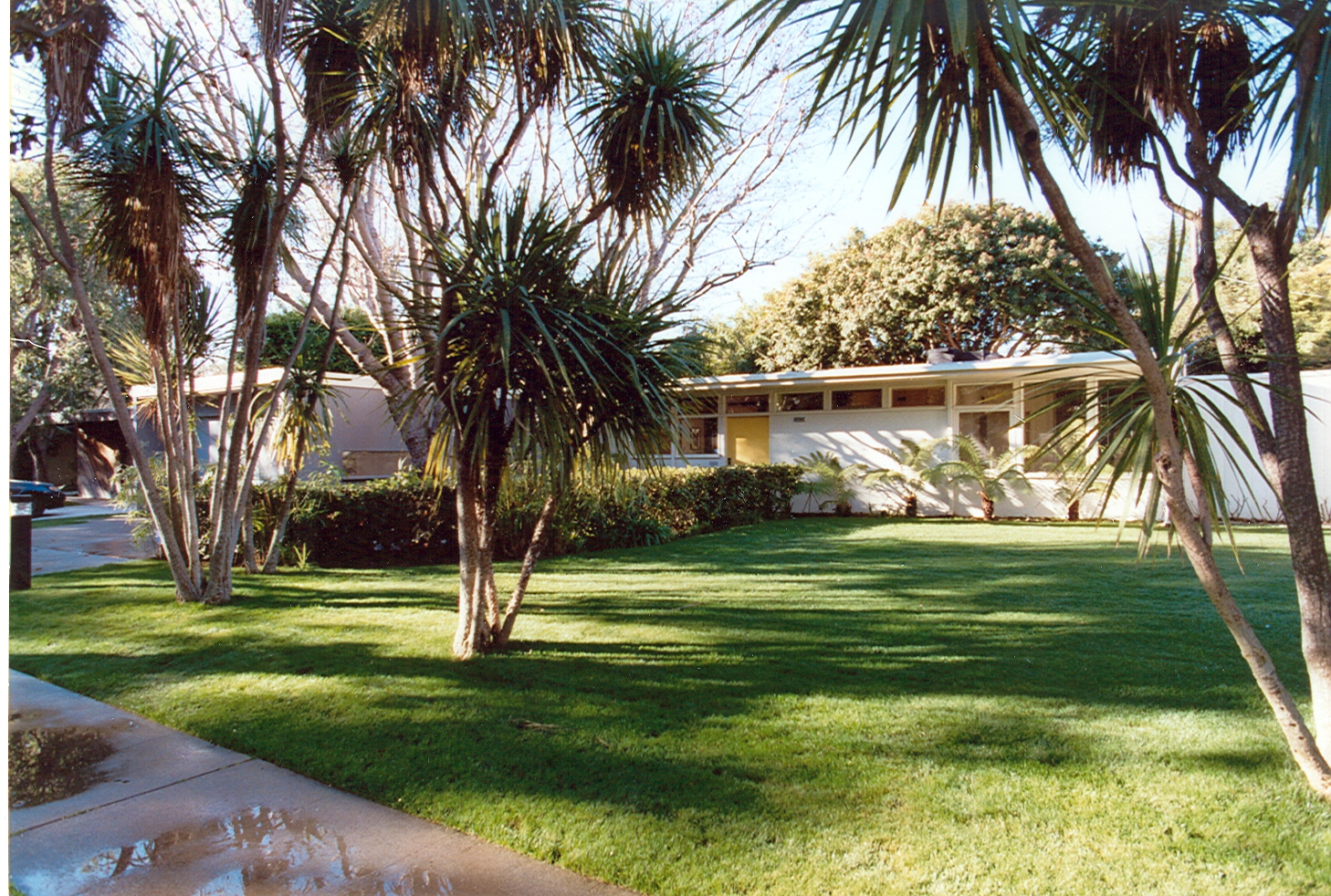 Place
Mar Vista Tract
An outstanding embodiment of the architect's philosophy that modern architecture makes for better living and should be available to everyone.
In 2003, the Mar Vista Tract on the west side of Los Angeles became the city's first designated historic district containing solely Modern-style, post-World War II homes. The designation was more than warranted, considering the development is an outstanding embodiment of architect Gregory Ain's philosophy that modern architecture makes for better living and should be available to everyone.
Ain designed the development with Joseph Johnson and Alfred Day and it was completed in 1948. It was planned to contain 100 houses on 60 acres, but only the first stage of 52 homes was completed due to the Federal Housing Administration's skepticism about the blatant modernism of the buildings. The existing tract was marketed as the Modernique Homes development, and the forward-looking design was used as the main selling point. Advertisements emphasized the flexible, open nature of the floorplans (which included folding doors that could turn one room into two) and the opportunities for indoor-outdoor living they provided. Although the tract's houses cost more than those on adjacent streets, Ain attempted to keep costs low by using a single house type and focusing on affordable materials. He added visual variety by altering garage placement and rotating some houses to be perpendicular to the street. 
Central to the tract's Mid-Century Modern design was the landscape, designed by landscape architect Garrett Eckbo of Eckbo, Royston and Williams. Eckbo envisioned a park-like setting without fences or walls, with generous front setbacks and common backyards. He used a wide variety of trees and plants to create a lush, complex environment, including garden spaces between houses and even planting different kinds of fruit trees in each backyard to encourage neighbors get together to swap fruit. The result is an unusually harmonious group of single-family residences, joined together by the free-flowing landscape and unified by their common architecture. Their current owners are actively working to return altered homes to their original appearance and pride themselves on preserving a truly vibrant and functional Mid-Century Modern neighborhood.