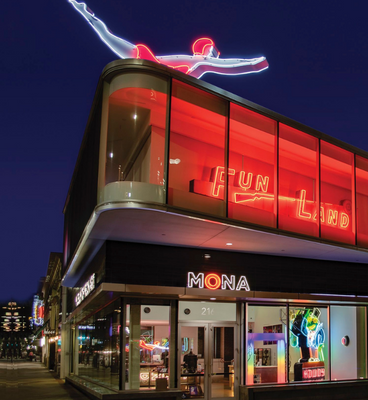 Place
Museum of Neon Art (MONA)
What began forty years ago with two artists and a few discarded signs has flourished into a well-respected museum, preserving and celebrating the rich cultural history of L.A. through its neon lights.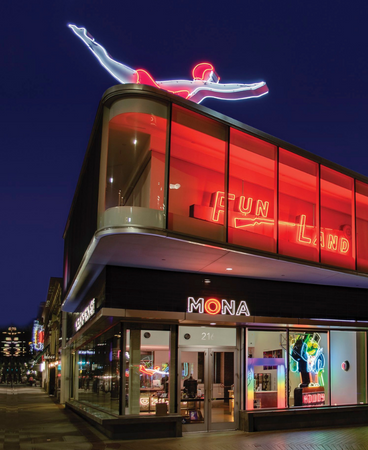 The Museum of Neon Art (MONA) was founded in 1981 by artists Lili Lakich and Richard Jenkins in downtown Los Angeles. When they witnessed historic signs around L.A. being disposed of in a scrap heap, Lakich and Jenkins decided to create a non-profit art museum as an alternative to abandoning L.A.'s iconic neon signs. This museum intended to create awareness for historic neon sign preservation and to showcase this electrifying contemporary art form. After many relocations, including Universal CityWalk, Grand Hope Park, and the Historic Core, MONA found a permanent home in 2016 on Brand Blvd. in Glendale, CA.
No matter their location, their mission has remained. For over 40 years, they have continued to advocate for the preservation of historic signage and the buildings they are mounted on. MONA has saved and restored over 500 historic signs and helped relight over 150 signs across Los Angeles.
Using neon as an entry point, MONA advocates for the rich historic and cultural legacies of Los Angeles by providing communities with the tools to see their neighborhoods in a new light. Many community members cite neon art as their gateway into appreciating Los Angeles architecture. As with many cultural organizations, the COVID-19 pandemic brought many unanticipated challenges.
Rather than shut down, MONA pivoted by creating free online resources, providing virtual programs, and increasing its advocacy. It acquired the Circus of Books sign and preserved the House of Spirits sign with the intent of returning it to the neighborhood. The museum saw growth in donations and membership and was able to secure relief and grant funding, helping it make its 40th birthday after a year of closure.
Today, the museum continues educating the public and advocating for the preservation of neon art throughout Los Angeles. MONA not only works to preserve neon art but also offers neon bending classes with hands-on instruction to carry on this craft. Neon making is listed on the HCA Red List of Endangered Crafts. After attending a class, 98% of students become museum members, and many become actively involved in preservation efforts for historic signage.
For the past 30 years, MONA's Neon Cruises have demonstrated to Angelenos the treasures in their backyards. In 2020, they helped fund and publish Neon: A Light History, one of the only books that tell a comprehensive and accurate story about the invention of neon and the essential role that advocacy plays in preservation.
The Conservancy recognized the Museum of Neon Art's achievements in historic preservation with a 2022 Preservation Award.
2022 Celebration Video
The L.A. Conservancy celebrated the 2022 Preservation Awards winners at the historic Los Angeles Memorial Coliseum with a video showcasing their stories. The program celebrated their hard work, dedication, and achievement. We're thrilled to share Museum of Neon Art (MONA) inspiring story with you.