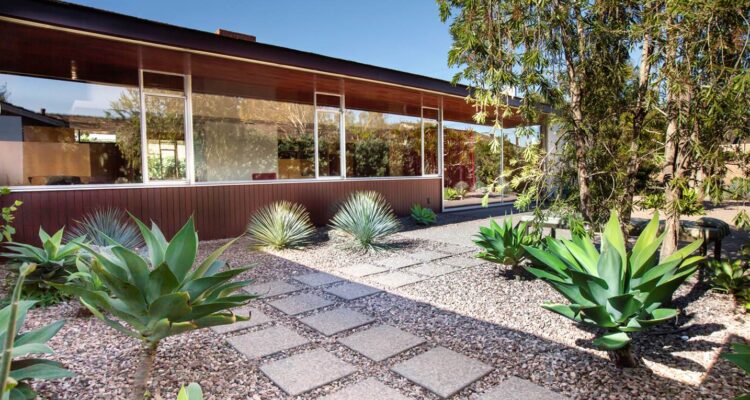 Place
Olan G. and Aida T. Hafley House
This rare work by Richard Neutra is aging gracefully thanks to a restoration that prioritized authenticity.
In 1934, Illinois high-school student Olan Hafley learned in Civics class about an up-and-coming architect named Richard Neutra. Flash forward to 1951, when Hafley—now a General Motors executive—and his wife Aida needed an architect for their home in Long Beach. They hired Neutra on the spot at their first meeting.
Located in Park Estates, an elite neighborhood of custom homes, the Hafleys' new home was required to have a sloped roof per the neighborhood association's design guidelines.
Neutra embraced the challenge, creating a rare (for him) design with pitched roof and cedar shingles.
He also encouraged the Hafleys to seek out owners of adjacent lots for potential new homes, to save costs and make the architect's site visits from Silver Lake to Long Beach more efficient. Thus was born the "double house" project, with Neutra designing both the Hafley home and one next door for portrait painter Bethuel C. Moore and his wife Doris.
In addition to its efficiency, the project allowed Neutra to express a long-held belief that a single architectural language could be applied to multiple properties in close proximity, while still meeting the unique needs of different clients.
The Hafley House stayed in the family until Aida's death in 2010. The new owners committed to a painstaking restoration of a rare Neutra design that, while largely unchanged over the years, had suffered from deferred maintenance and a few incompatible alterations.
Though high in design, the home—like many Mid-Century Modern homes—had been constructed using newly mass-produced materials of the time, such as Masonite, plywood, plastics, and aluminum. Time has shown that such materials don't always age well, and they're often replaced by modern substitutes.
In this case, however, the owners chose authenticity. They wanted to honestly reflect the age of the house while restoring it to its original design intent. As stated so well in the home's 2015 Preservation Award application: 
The commonality and temporary quality of these materials cannot be an excuse for automatic replacement.
Using original construction documents, correspondence, and Neutra's field notes, the project team carefully excavated the surfaces of the home to confirm original materials, textures, and colors. They removed contemporary paint and wall coverings, keeping original Masonite and birch wood veneer wherever possible, even if it didn't look perfect. They removed corrosion from metal doorframes, windows, and hardware. They even uncovered (and kept) the original plastic laminate backsplash in the kitchen.
These efforts and many others yielded not only a beautifully restored home but valuable lessons and best practices for conserving Mid-Century Modern buildings. It also clearly demonstrated that even in Southern California, it's okay to show your age.