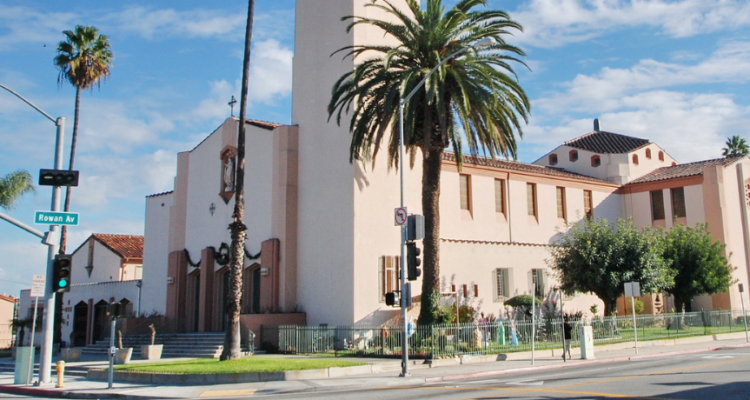 Place
Our Lady of Lourdes Church
Our Lady of Lourdes is a rare example of a church designed in the Art Deco style.
The soaring verticality, buttressed walls, and symbolic ornamentation of Gothic cathedrals had a great influence on the moderne style. Nonetheless, Art Deco churches are a rare find, as the style's extravagant ornamentation and associations may have been deemed inapproprate for ecclesiastical structures. 
Lester G. Scherer, a Hollywood architect, incorporated numerous Art Deco elements into his Spanish Colonial Revival design for Our Lady of Lourdes Church in East Los Angeles. The Latin-cross floor plan, central dome, bell tower, red tile roof, and smooth stucco surfaces convey a Spanish sensibility. Closer inspection reveals Scherer's fresh reinterpretation of these details to reflect the interplay of geometry so indicative of the moderne.
The red roofing tiles over the side aisles are laid in a zigzag pattern. The arrangement of three peaked doorways, separated by thick piers, creates a rhythm of chevrons accross the facade. Overhead, a statue of Our Lady of Lourdes is surrounded by cherub faces in a hexagonal niche. The bell tower, attenuated by narrow setbacks, tapers to a hexagonal crown inset with decorative panels of a cross on a florid background. The hexagon motif is also prevalent in the jagged gold mosaic cap on the tower, the honeycomb grillwork on the tower balcony, the splayed windows of the central dome, and even the dome itself.
The bold Art Deco sensibility continues in the interior of the church. In the sanctuary, simple yellow glass windows cast a golden light on the interior. Peaked arches zigzag between the nave and the side aisles to create a continuous line of chevrons toward the altar, a pattern which is echoed on the wooden confessionals. But the piece-de-resistence is a tile mural on the chior loft balcony bearing the inscription Pax Vobiscum, Latin for "Peace Be With You." Above swirling stylized clouds stands a moderne resurrected Christ, garbed in a stunning cubist robe worthy of Erte.