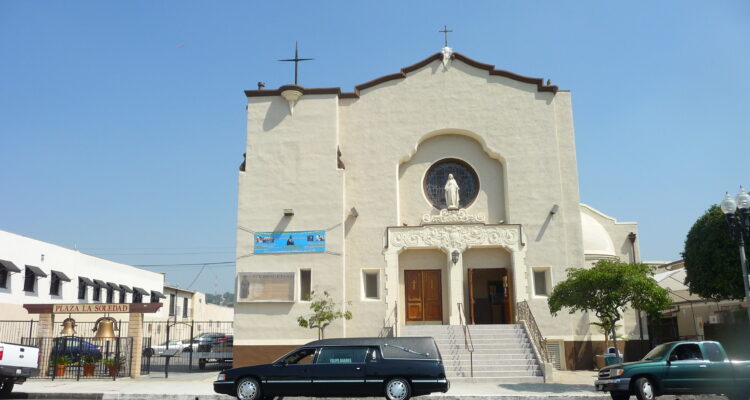 Place
Our Lady of Solitude
Soledad Church has been a cornerstone in the Latinx community in East Los Angeles since it first opened more than ninety years ago.
Our Lady of Solitude, better known as Soledad Church, opened its doors on Christmas Day in 1925. Its first pastor, Father Michael Sheahan, was an Irish priest and active member of the region's Catholic community. It is located in the heart of the neighborhood now known as Old Town Maravilla. 
Designed in the Spanish Colonial Revival style, the visual appearance of Soledad Church was intended to highlight both the architectural and cultural fabric of the predominantly Mexican and Mexican American community that the parish served. In December 1931, Soledad Church held its first outdoor procession in honor of the feast of Our Lady of Guadalupe, a ritual that continues through the streets of East Los Angeles today. 
In addition to its cultural role in the community, the church played an important part in the tradition of social activism in the Eastside. According to some accounts, labor leader Cesar Chavez and members of the farmworker movement met with the Claretian priests in church's basement, fueling the parish's commitment to social justice and service of the poor. 
By the late 1970s, Father Luis Olivares, who was known for protesting alongside the United Farm Workers throughout the state, turned his attention towards the injustices facing members of his own parish. He became the spiritual leader of the United Neighborhoods Organization, a grassroots collective that advocated for low-income housing, increased social services, and drug and violence prevention in East Los Angeles. Olivares was eventually credited with making the Latinx congregation one of the most influential in Los Angeles.
Over the past few decades, several changes have occurred at Soledad Church, both physical and operational. In 1979, its distinctive tile-clad cupola and bell tower were removed due to termite damage, and the bells were reinstalled near the church entrance.
In the early 2000s, the Claretian Order, which had overseen the church for 69 years, handed over leadership to the Mexico-based Missionary Servants of the Word, marking a transition from the parish's activist traditions towards the new order's focus on evangelism.