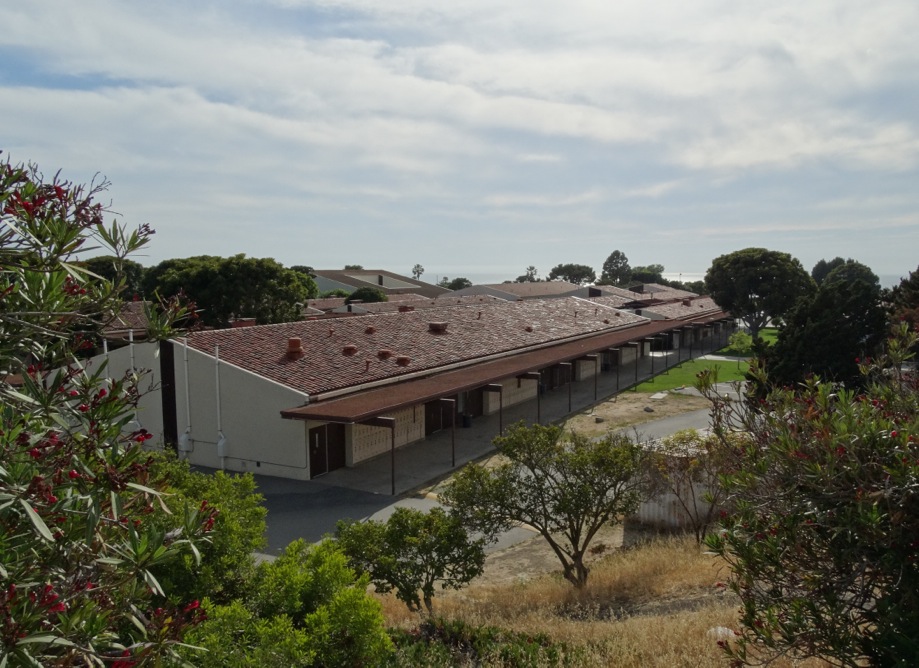 Place
Palos Verdes High School
Of the hundreds of high schools built in the postwar population boom, the only one built within a block of the ocean—leading to its own design challenges.
Palos Verdes High School was only one of hundreds of school buildings constructed during Southern California's explosive postwar population boom, but it may be the only one located within a block of the ocean. Its scenic location led to some design challenges, particularly regarding the placement of numerous large buildings on a vigorously windswept plateau.
In 1959, the Los Angeles Unified School District hired architects Richard Neutra and Robert Alexander to work with local Palos Verdes architect Carrington Lewis on the design for the new high school. The architects were constrained somewhat by the requirement to use clay tiles on the rooftops and the need to provide protection from the ocean winds, but they produced a lovely and functional campus. Its buildings combine the clean lines and simple volumes of Mid-Century Modernism with the more traditional elements of gabled tile roofs and stucco walls. They are arranged in rectangular patterns shielding landscaped interior courtyards from the wind, and sit on two distinct terraces stepping down the 37-acre site. The larger multipurpose and physical education buildings were built of tilt-up concrete, while the rest were wood-framed and clad in stucco. Even on the more traditional-looking classroom buildings, Neutra couldn't resist using his trademark "spider leg" metal supports on canopies, leaving his distinctive mark on the campus.