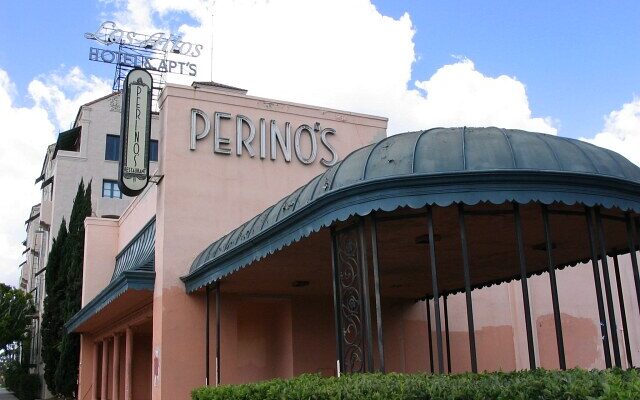 Place
Perino's (Demolished)
Paul Williams transformed a Thriftimart market into one of L.A.'s most renowned restaurants.
Noted architects Morgan, Walls, and Clements originally designed this building in the 1930s as a Thriftimart market. 
In 1950, Perino's restaurant moved to this location from 3927 Wilshire Boulevard. Architect Paul R. Williams transformed the building, giving it a graceful upswept mansard facade, a porte-cochere supported with wrought-iron flamingos, and a dignified and exquisite dining room.
Perino's became one of the city's most renowned restaurants. Proprietor Alex Perino demanded the freshest ingredients, catering to a cultured clientele in beautiful surroundings. Perino's was the scene of countless power lunches and hushed conversations between celebrities.
After attempts to revive the restaurant in 1986 failed, it was open only for private parties and filming. The restaurant was torn down in 2005 for apartments.