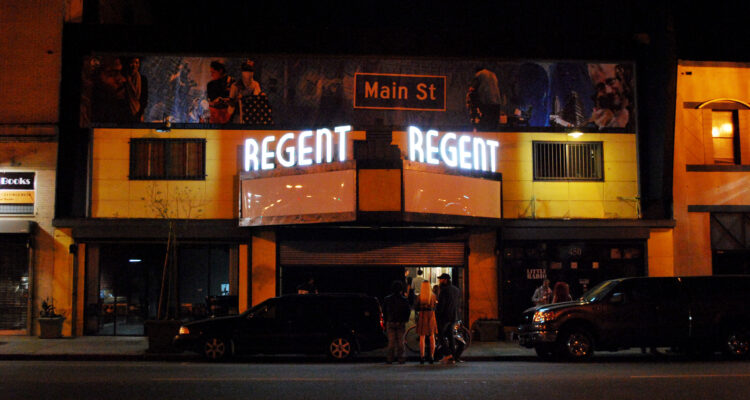 Place
Regent Theatre
The Regent is one of only two survivors of Main Street's early entertainment heritage.
Constructed as the 600-seat National Theatre, this two-story building originally had an ornate Renaissance Revival façade of gleaming white terra cotta, topped by a classically inspired pediment. The theatre was renamed the Regent after a few years but continued to show first-run films. 
The Regent is the oldest remaining theatre on South Main Street.
In its day, South Main Street was Los Angeles' theatre district, boasting about twenty entertainment venues. Though most of the theatres were comparitively small, as the city's population grew, so did its theatres. Those on Main Street ranged from the 248-seat Novelty Theatre to the 2,100-seat Hippodrome. The last to leave Main Street was the 1,500-seat California Theatre.
By the 1920s, Broadway -- with its opulent vaudeville and movie palaces -- had eclipsed Main Street as the city's entertainment center. Theatres on Main Street gradually closed, were converted to other uses, or began catering to a different audience.
In a move to recast its image as up-todate, the Regent Theatre was remodeled in the early 1940s with a sleek moderne façade and marquee. Yet the theatre's auditorium retains much of its original detail. Most of the theatre's original, gothic-inspired ceiling remains; the orignal proscenium remains largely intact and although its seats have been removed, the auditorium maintains its original rake (slope). 
In its later days, the Regent became a "grindhouse," specializing in B-movies –- often exploitation films –- shown in multiple-feature format. The theatre closed in 2000 after years as an adult movie house.
The Regent is one of only two survivors of Main Street's early entertainment heritage, the other being the Merced Theatre at 418 North Main Street. In 2012, music promoter Mitchell Frank took control of the Regent with plans to offer a mix of movies and live music events.