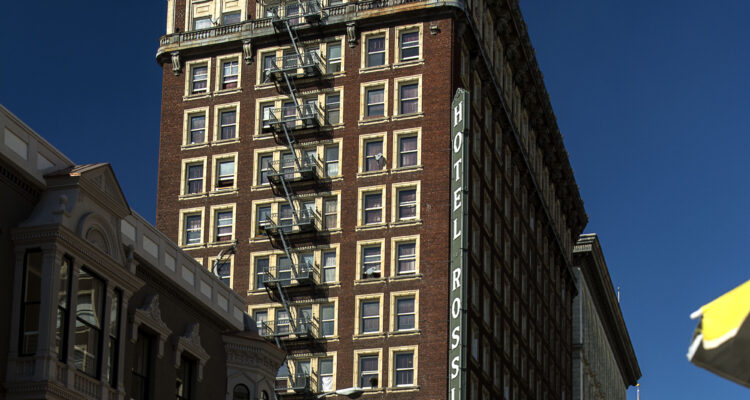 Place
Rosslyn Hotel (Annex) Apartments
This former hotel for the wealthy elite now provides housing and support for people in need.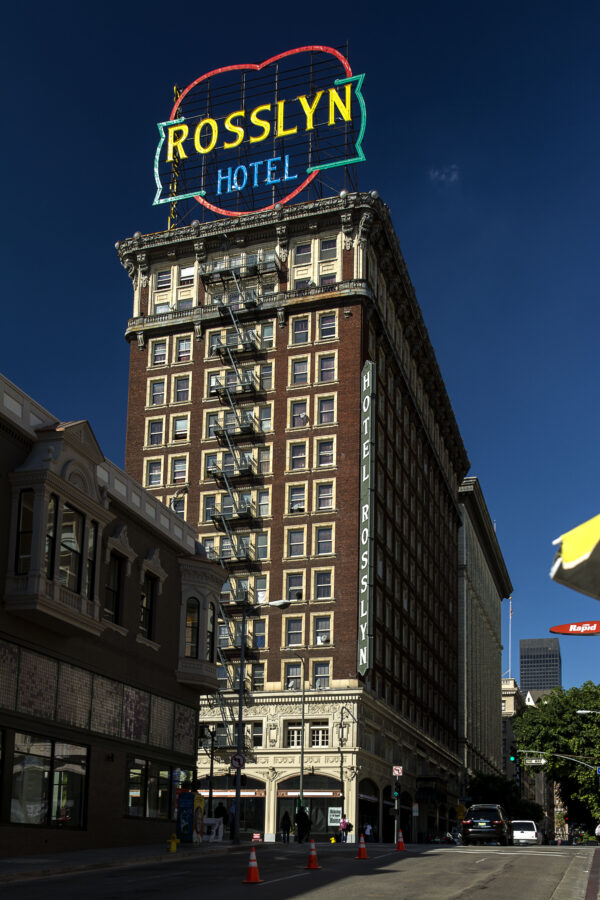 When the Rosslyn Hotel at Fifth and Main Streets opened its annex in 1923, it became one of the largest luxury hotels on the West Coast. The annex shared the Beaux Arts architecture of the main hotel across the street, with symmetrical elevations, three-part organization, terra cotta ornamentation, and use of Classical detailing.
Also like the main building, the annex boasted an enormous, heart-shaped, rooftop neon sign, becoming an instant beacon for wealthy travelers.
Inside, the annex featured a marble-filled lobby (complete with marble reception desk), coffered ceilings, intricate detailing, and a spectacular skylight. As demand for downtown hotel rooms decreased in the mid-twentieth century, the hotel and its annex—like many downtown buildings—fell into decline.
The Rosslyn Hotel Annex served as single-room occupancy (SRO) apartment housing and suffered many years of benign neglect. The nonprofit SRO Housing Corporation bought the annex in 2010. Over five years, they transformed the building into affordable housing and support services for chronically homeless veterans and low-income individuals living with mental illnesses and other disabilities.
The project restored, repaired, and rehabilitated everything from the first-floor storefronts to the rooftop sign. The building needed major structural work, including reinforcements that were strategically placed and "surgically inserted" to avoid historic elements. All mechanical, electrical, and plumbing systems were upgraded. The team restored the lobby to its original size and configuration, re-opened a walled-off opening between the first and second floors, restored the skylight, and refurbished historic finishes and details.
The second floor reclaimed its original use as a public gathering space and lounge. The team created a secure computer lounge using existing cabinetry and paneling. A challenging phasing and relocation plan for tenants even allowed the building to stay partially occupied as work proceeded. SRO Housing celebrated its thirtieth anniversary with the grand opening of its thirtieth housing project, Rosslyn Hotel Apartments.
This visionary project delivers the very tangible benefit of helping people—including veterans who have served their country—get back on their feet. The main hotel building across the street now provides luxury housing, and now, like then, you can hardly tell them apart.
This project, which earned a Conservancy Preservation Award in 2015, shows how historic preservation can serve as a tool to integrate affordable and low-income housing into market-rate neighborhoods. It also proves that in the right hands, and with the right resources (including tax credits), historic buildings can gain new life while meeting vital community needs. It proves that the ongoing renaissance of downtown Los Angeles can benefit everyone, and that we all need—and deserve—great architecture.